He beat me to a state of coma, walked out on our marriage —Wife
•I caught her and her lover romancing in a dark corner twice —Husband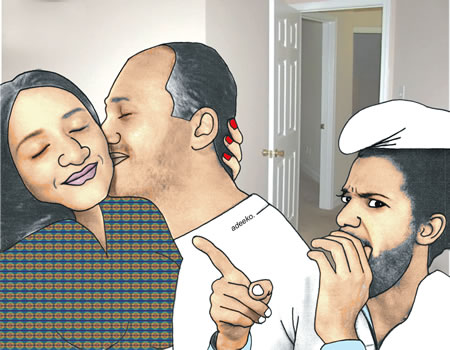 Ile Tuntun Customary Court, Mapo, Ibadan, Oyo State has adjourned hearing on a divorce matter brought before it by a woman, Tawakalitu Badmus, against her husband, Yussuf Badmus.
Tawakalitu  had sued for divorce on the accounts of irresponsibility and battery by the husband. She appealed to the court to put an end to their relationship.
The plaintiff further prayed the court to grant her custody of their two children and make the defendant responsible for their upkeep.
Yussuf agreed to claim when it was read to him.
The plaintiff, giving her evidence, said:"My lord, my husband can best be described as a beast. He lacks human feeling and is cruel in his ways. He has almost snuffed life out of me with his constant beatings.
"He carries out no responsibility in the home but brags every now and then that he's the head.
"He has no shame. I clothe and feed him and our children while I'm also responsible for our children's education.  Any time our children ask him for their needs he will tell them to come to me.
"He gets angry whenever I demand that he lives up to expectation in the home. He had beaten me on some occasions to a state of coma and I was admitted in the hospital. He abandoned me there and I was not discharged until I made proper arrangement for my medical bills to be paid.
"My lord, he moved out of our apartment in February and kept us in the dark about his where about. Our children hardly felt his absence when he left because he had never been there.
"Since he refused to return home, I sold all the property bought by me and moved out of our apartment with the children.
"I used the money from the sales of the property to rent a new apartment," she said.
Speaking further, she said: "I informed him of our son's graduation from Arabic school and expected him to make provision for the celebration of the event but he contributed nothing.
"I took food to his family house; his father rejected it while Yussuf descended on me with heavy blows. He, at the end of the day, left me with a deep cut.
"I got him arrested with the police and he was not released until he apologised to me and pleaded for his release.
"I was once arrested by the police and locked up in the cell for an offense I knew nothing about.  Yussuf in order to ridicule me, brought those I was indebted to to the police station to mock me.
"My lord, Yussuf is a cunning human being and dubious in character. My life is not safe with him, I plead that you end our relationship today.
Yussuf, when the claims were read to him, acceded to divorce.
"My lord, I'm also tired of our marriage. Tawakalitu's decision to divorce me is welcome. As far as I'm concerned, hers is a case of good riddance to bad rubbish.
"I have never for once enjoyed my 18 years union with her. She is stubborn and loves to have her way.
"She has no regard for me and treats me with disdain. She will leave home without my permission and return late in the night.  She flouts my orders at will and has, on many occasions, walked out of me during arguments.
"She's not bothered about our children's welfare and knows nothing about them since she spends most of her time outside home.
"My lord, Tawakalitu is a harlot. She is not faithful to me, neither is she committed to our marriage.
"I came across six pictures she took with some strange men. Her postures in these pictures were indecent.
"I reported her to her sister who rebuked her. But rather than show a sign of remorse, she stopped greeting me. She also stopped cooking for me despite giving her feeding allowance.
"I reported her to her sister again and she advised that I should stop giving her feeding allowance, "the defendant said.
"I was on sick bed when she informed me about our son's graduation ceremony. I told her to wait till I was discharged from the hospital and had recuperated, but she decided to have her way.
"None of her family members or mine attended the ceremony," Yussuf further stated.
"She's in the habit of borrowing money and not paying back. Her debtors always come to our house to harass and threaten her which I always find embarrassing.
"My lord, I once caught her with one of her lovers in the dark around 9:00 p.m. and I made it known to her that I saw her.
"I again caught her in a compromising position with another man in the corner of a school near our house. This was around 10:00 p.m.
"My lord, I've had enough of her shameful behaviour.  I've tolerated her thus far because of our children. I'm in support of divorce. Please separate us, "he concluded.
The court president, Chief Olasunkanmi Agbaje, after hearing both parties adjourned the case till June 24 for judgment.
Agbaje  ordered both parties to come to court on the adjourned date with their children and parents.