He attends club every night, returns home with his lover and sends me out —Wife
•She's a busybody, attempted to poison me, still in possession of charms —Husband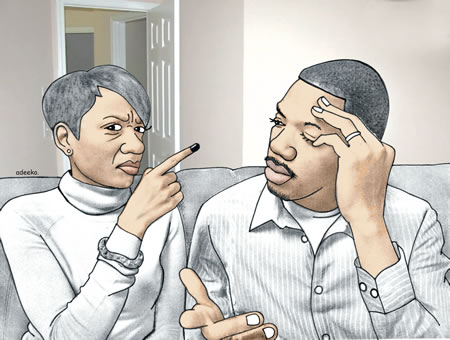 A woman, Olamide Ganiyu has dragged her husband, Sikiru Ganiyu before Oja Oba/ Mapo Court C Customary Court, Mapo, Ibadan, Oyo State, seeking that their seven-year-old marriage be dissolved.
Olamide had sought for divorce on the accounts of irresponsibility, infidelity and battery by her husband.
The plaintiff further appealed to the court to grant her custody of the three children produced by their marriage in order that she might give them adequate care and attention.
The defendant consented to the plaintiff's prayer of divorce.
Giving his judgment after having heard both parties, the court president, Chief Ademola Odunade observed that their relationship had broken down irretrievably.
Ruling, he dissolved their wedlock and gave the plaintiff custody of their three children while the defendant was mandated to be responsible for their education and health care.
The defendant was asked to pay monthly sum of N12, 000 through the court as their children's feeding allowance.
"I've had enough of my husband's humiliation, "Olamide told the court.
"My husband treats me like a rag or an item to be used and discarded of.
"He has failed to give me the attention a wife desires from her husband. Rather than show me affection or dot on me, he shouts at me and complains over everything I do.
"My lord, aside neglecting me, he beats me to a pulp any time we have a misunderstanding. He didn't spare me even when I was pregnant and was at an advanced stage. He cared less if I was hurt or had a miscarriage, "she added.
"As much as my children and I love to have him at home with us after the day's activities, he has always abandoned us.
"He can't but visit the club every night. While I try to manage the stipend he gives us as feeding allowance, he lavishes money on ladies at the club.
"My lord, my husband humiliates me almost every day by bringing his lovers home not caring about my feelings. Any time he brings them home late in the night, he will send me out of the house.
"I can't tolerate his irresponsible act and humiliating attitude towards me any more. My lord, I pray this honourable court to end our relationship, "she stated.
"My lord, I'm also no more interested in Olamide, "Sikiru said.
"My wife is accorded no respect in our compound or neighbourhood because she lacks moral values. She's a tale bearer and the chairperson of gossips in our neighbourhood. Olamide has failed to be a good example to our children and the young ladies in our neighbourhood.
"After leaving home in the morning for the day's job, Olamide will abandon her duties in the house and move from house to house spreading tales and turning people against one another. I return home everyday settling scores between her and our co tenants and also those in the neighbourhood. Many times I dread going home because I know I will find no rest.
"My lord, Olamide is evil. She is diabolic and had once attempted to take my life. I would have become a dead man by now if not for God's grace and our neighbours' timely intervention after she poisoned me.
"I once caught her with charms in her possession; I was mad with her and would have thrown her out of my house if she had not begged for my forgiveness.
"But my lord, although she promised to change the truth is that the leopard can never change its skin. Olamide rather than change, is getting worse. She has not stopped embarrassing me and soiling my name.
"I'm fed up with our union and I pray you end it now, "the defendant stated.