Hausa gold miners in Osun State open up: We collect N10,000 per gram, land owners sell for N50,000 per gram to merchants
AKINWALE ABOLUWADE who was at some gold fields in Osun State, reports that illegal mining activities have assumed an unprecedented and worrisome dimensions in the gold-rich Ife-Ijesa axis of Osun State, even as a ban was being placed on gold exploration in Zamfara State following persistent banditry in the northern communities
The forest of Itagun, a sleepy agrarian community in the Ife-Ijesha axis of Osun State is a big attraction to vibrant young men from far northern parts of Nigeria because of its gold deposit. Itagun in Atakumosa West;  Iperindo in the South East of Ilesa and other neighbouring settlements are said to be sitting on a large gold deposit which, according to geologists, could be worth approximately $5billion.
When driving through the Ife-Ijesa settlements and forests in the morning or by evening, you are likely to find hordes of illegal miners carrying diggers, spades and pans going or coming from the mines.
In those communities, hundreds of illegal miners, 95 percent of who are Hausa /Fulani young men bristling with energy, leave their rented shelters with their tools after the Subhi prayer to dig up the earth for gold in the bush and on farmlands of their hosts.
Mohammad, Abubakar, Suleiman and Farouk, who are living at Araromi village, are among the teeming league of Hausa/Fulani youths who dig up the earth for gold. The young men, who came from Zamfara, Kano and Kebbi states have been engaging in illegal mining business in the communities for many years.
Mohammad said that they had been engaging in local mining activities in the north before coming to Osun State. He said most of them were hunting for gold and other precious stones in Zamfara and parts of Kano State before being told about the gold field in Osun State. They travelled down south because they were informed by their colleagues that  the hunt for gold in the area is comparatively less cumbersome.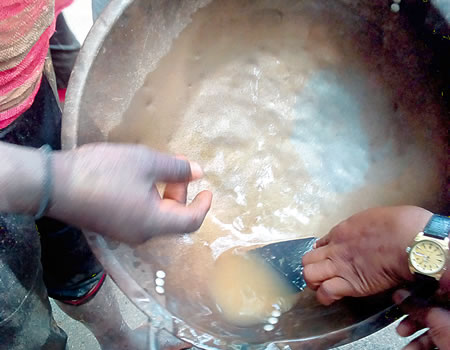 He said: "We don't stay permanently here. We came to work here from the north. I got to know about this place from friends and colleagues. We were doing this business together in the north  before they came to this place and we later joined them. There are lots of gold in this place and we don't have problem with the natives. I dig for gold in the bush close to Araromi village. Mining is a good but very difficult job".
An old Fulani miner, who gave his name simply as KKR for fear of arrest, said: "We don't just start digging for gold. We do our work in agreement with farm owners. Usually, they invite us to come and check if there is gold on their land. We would dig to check if there is 'zenari' (traces or signs of gold deposit) on the land.
"We work in groups and each group comprises four people. When invited, we usually start work after the land owners agree to pay each group the sum of N2,000 per day for food until we find the first trace of gold. This amounts to N500 per person. We would open fresh negotiation after picking up the first gold at the site. The standard charge is N10,000 per gram of gold.
"When we are done on a particular site, the land owner would bring computer scale to weigh the gold and pay us. About three groups comprising four people each usually work on a site. We end up making about N1.5m where we find gold on rebate of N10,000 per gram while the land owners sell for about N50,000 per gram to the merchants.
"We usually work at each location for  weeks and we can dig very deep as far as we keep getting gold. But sometimes, we stop digging because of fear of landslide". KKR said gold mining is a very technical venture that requires training, perseverance, luck and lots of experience. He added that inexperienced people who pry for gold could end up in danger or get killed in the process due to accidents. He stressed further that  those who are inexperienced usually  end up in fruitless search.
According to some of the miners, training in local mining under a master may lasts up to five years. The trade requires patience, energy and courage.
Although gold exploration is very lucrative, findings show that it also has a devastating effect on the environment as well as the host communities.
A farmer and timber merchant at Araromi village in Ile-Ife, who craved anonymity, lamented that the farmlands and forests of Itagun, Iperindo, Araromi, Ifewara, Osu and other adjoining communities in Atakumosa West Local Government Area and other southeast parts of Ile-Ife and Ilesha in Osun State were being plundered by the miners who ply the unregulated trade.
According to him, farmers occasionally incur losses when illegal miners encroach on their farmlands and plunder crops in mindless quest for gold. He said: "We farmers have concerns about activities of the illegal miners. Although I have not personally experienced this, we have few cases where farmlands were encroached on and the Hausa/Fulani men engaging in illegal mining dig up the farms.
"This is not entirely the fault of the illegal miners. We find out that some greedy land owners, having leased their lands to farmers, would turn round to ask the miners to dig up some portions of the farmland in search for gold not minding the fact that our crops are being damaged. It is usually a big gamble; when they get to a place, they work for several hours. The lucky ones only get a little ounces after many days of digging which would have got the whole place messed up".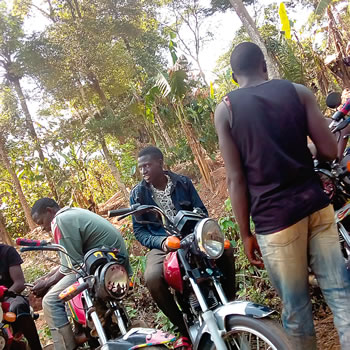 Investigation by Saturday Tribune shows that majority of those hunting for gold in the area are Illegal miners. However, a middle- aged Yoruba settler at Itagun, who identified himself simply as Ola, said: "I don't think that it will be fair to say all of them operate illegally. We see some of them around who pay various amounts of money for tickets to agents as operational permit. So, some of them claim that they usually obtain permit to mine gold in the area."
Ola, who disclosed that he once lost the sum of N270,000 to Hausa/Fulani miners, who helped him check for gold on his land at Aramoko Ekiti without any positive result, said: "Quest for gold is a big gamble. Sometimes you could be lucky but oftentimes, it ends up as efforts in futility.
"I don't think that it is worth plundering farmlands in search for gold. Even if I am sure that there is gold on my land, I cannot destroy the plantation for gold. The reason is that gold has a one time yield while farm yields are continuous. When you dig up the land, you would have vandalised or compromised its value forever".
Many people have expressed fears that the gold-rich region of Osun State may be under threat of activities of illegal miners following the ban on mining activities in Zamfara State as a result of reported banditry in the gold rich northern state.
Talking about his personal experience recently, John Ogunlela, on social media expressed worries about the illegal activities of gold miners in Osun State. He said: "I am afraid the next eruption is going to be in the southern forest of Itagun all the way to the southeast parts of Ile-Ife and Ilesha in Osun State. I have toured those forests and seen for myself and I can see that if you drive Zamfara miners off the fields, they will migrate straight into the Itagun fields.
"The miners are not structured in any form. There are no rules or guides and no form of law. I imagine what could happen if you stopped them. They could be forced into crimes as a result of unemployment. Now that Zamfara mines are being closed down, the natural thing is for those boys to move down here. Security agencies have an urgent work to do to make sure those forests are not infested with arms and itinerant fighters driven from the north".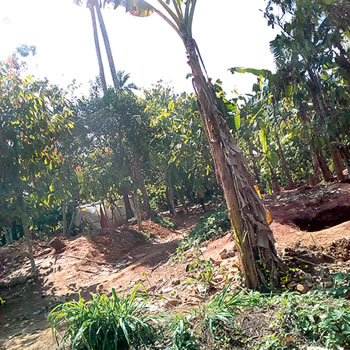 Unless urgent steps are taken in tackling the menace of indiscriminate mining, a Civil Engineer, Mr Kehinde Odunlade, said the lives of people in the mining communities may be in jeopardy. He said the hazards of unguarded excavations and digging could be devastating with increased possibilities of landslide and related environmental risks.
Indeed, some bodies are expressing concern against indiscriminate mining activities across communities in the West Africa sub-region. Recently, the West African Civil Society Forum (WACSOF) called for harmonised law to protect mining communities. The forum, through its general secretary,  Komlan Messier, at a workshop on Mining Development Act in Abuja, said the ECOWAS minerals development  emphasises the need for strategic shift in the role of mining for the transformation of West African economy.
Calling for assurance of safe mining process, he noted that West Africa has one of the best resources in the world without the citizens feeling the impact of the resources. Messie added that the environmental and economic impact of mining should be taken into account with the protection of the sites given a priority with environmental impact assessment also taken into consideration.
A Civil Defence Corps personnel at Osu in Atakumosa West Local Government,  who did not disclose his name, said the mediation unit of the Corps is already inundated with land related disputes, adding: "At the moment, what you can see on the gold fields in the state are illegal activities because the mining activities have been temporarily suspended".
Attempts to speak with community leaders in the areas failed as many of them declined to give their comments on the issue for security reasons.