The saying that "What a man can do, a woman can do better" finds some expression on the streets of Ibadan where a number of women have taken to riding tricycles for commercial purposes. PAUL OMOROGBE tells their story.
In the beginning, they looked like an oddity in the ancient city of Ibadan known for its conservativeness. However, today they are fast gaining recognition within the transport system in Ibadan. In a bid to make ends meet amidst economic hardship, these industrious women have taken the bull by the horn operating as tricycle riders on the busiest routes of the city.
Sighting them on the streets is rare, because they remain in the minority. But you will be sure to see them after a while.
Mrs Fikayo Esther Ogunmokun, a mother of five, was in dire straits a while ago before she began riding commercial tricycle over a year ago. She was one of the affected traders whose shop at Orita-Challenge area of Ibadan was demolished to make way for the road expansion in the area.
"I was deep in debt at the time when it happened. So I had to take up the job of a domestic help. I was being paid N1,500 whenever I could find clothes to wash or cleaning to do in someone's house. I was often left with N500 to take home after servicing my debt on a daily basis. This was nowhere near enough to take care of my family's needs.
"I started thinking of what to do. I was inspired by one elderly woman we call 'grandma' that I once saw riding a tricycle. I was at Orita one day and I boarded one 'maruwa' heading to Gate. I didn't have anything doing there. I just wanted to talk to the driver about how he could teach me to ride the tricycle. He laughed at me when I said it. But I insisted that I was serious. He eventually agreed, and he took me to a place in town where he taught me for one day. I paid him N3000 that day for the training. The second day, we went out again and I had to pay him again.
Mrs Ogunmokun thereafter asked people around her for who she could get a tricycle from to ride. She eventually found someone who agreed to give her one to ride and that's how she started.
"When I began early 2015, there were just three of us women in this business," she added.
"I go out at 7am and close at about 8.30pm daily. My husband was skeptical about my going into this kind of thing, but he eventually agreed."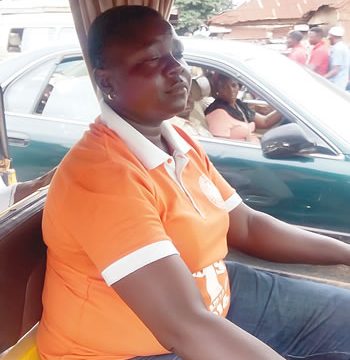 Mrs Ogunmokun said that with a daily income being sure for her, she has been able to settle her debts and support the family which already has one undergraduate in a polytechnic in Ogun State. "I used to make between N4000 and N5000 daily before the fuel hike. But with the increase, after buying fuel and making delivery to the owner of the tricycle, I make an average of N2,500."
How have the male counterparts reacted to these women who have encroached on their turf? According to Mrs Ogunmokun it's a mix of good and bad. "There was a day I had a flat tire. One male 'keke' driver going in opposite direction stopped to come and help me raise the tricycle to change the tire. Some of the NURTW boys who sell tickets are civil, and the police don't disturb us. But there are some male drivers who react angrily when they see us; maybe they feel we are delving into their world, or taking their jobs."
The reaction of passengers is also two-way traffic: "There are some passengers who say that just for the fact that I am a woman they will enter. They admire a woman taking this step to make ends meet. Some will pay and ask me to keep the change, and there are others who refuse to enter because they are not confident women can ride it safely."
Mrs Ajoke Oluwaseun, a female tricycle rider said she began with riding an 'okada'. "I had a dream one night that I was riding the tricycle little children play with. I used to work as a waste collector attached to one of the dump trucks of Oyo State Waste Management Authority. I gathered some money and bought an 'okada' which I would ride by myself to work, while carrying a few passengers on my way home.
After a while she thought to herself that she could also ride a tricycle. She found a person who gives out tricycles on hire purchase and took one. "Nobody taught me how to ride a tricycle. I decided to do it because it was a far more profitable way to survive." Mrs Oluwaseun said that what she found to be a challenge was dealing with the union ticket sellers; otherwise she enjoyed riding the tricycle. She has hopes that one day, she would be able to pay up the N720,000 payment target and the tricycle would become hers.
What makes the women-in-commercial-tricycle-riding phenomenon even more interesting is the fact that both the young and old are in it. Aanu Bakare is a single woman in her early twenties plying the Molete-Gate route. She only began the business this year. "I trained as a fashion designer. I am doing this because I need to raise money for my 'freedom.'"
Though Aanu rides the tricycle with dexterity and said she has no issues with the males she meets while on duty, she adds that her love for fashion designing will take her off the streets once her target is met. "I won't do this for long because I want to go back to my previous trade. I have a partner who also rides this tricycle for business; she is a HND student."
It has however not all been smooth sailing for this unique set of transport operators in Ibadan. Mrs Ogunmokun recounts an experience that put her out of business for over three months. "After my first tricycle, I got a new one from one microfinance bank. Unfortunately, I had an accident. I was injured on my leg. It took me three months to recover. The bank took away the tricycle, and some sympathizers including my mother said that they told me that tricycle riding was not for women." Undaunted by the incident, she got back on the streets saying, "There is no business without risks. For me this is far better than owning a shop with goods worth N1million, because sales are not sure every day, but with this I am sure that I will have something to take jome at the end of the day, no matter the number of passengers I convey to their destinations."