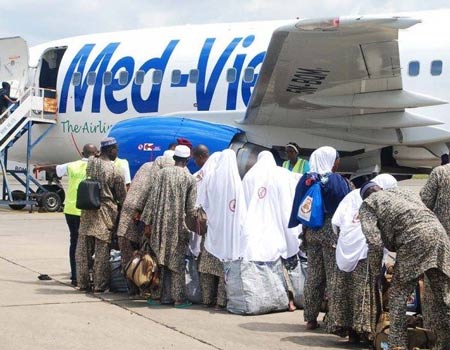 Birds strike has forced a Medview Airline to abort a Saudi Arabia bound flight at Ilorin airport on Saturday night.
The Tribune Online gathered that the B767 aircraft carrying 222 pilgrims was taxiing for take-off when it was struck by a brood of birds, forcing the pilot to abort the flight.
It was also gathered that the 222 pilgrims were de-boarded without incident, while arrangements had been made to provide another aircraft to airlift them.
A statement by the airline said that a team of engineers had been flown to Ilorin to get the aircraft back to service.
Speaking on the development, the manager of Ilorin International Airport, Alhaji AbdulAzeez Ibrahim, confirmed that 1,214 intending pilgrims had so far been transported to Saudi Arabia from the airport, saying that 460 Pilgrims made the first batch, 215 in the second batch while 539 pilgrims were the third batch from the airport.
He also said that the airport authority had perfected arrangement for a successful transportation of all the pilgrims from Kwara, Ondo and Ekiti states from the airport.