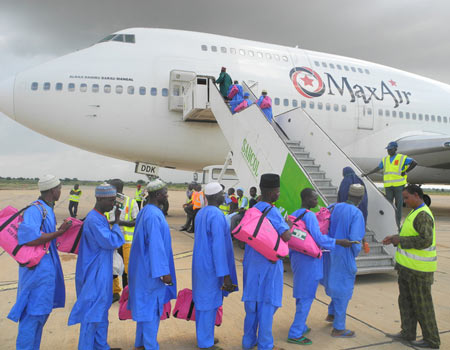 An Abuja-Based Islamic Cleric, Sheikh Yahya Al-Yolawi, has advised Nigerian pilgrims to be of good behaviour before, during and after the Hajj in Saudi Arabia.
Al-Yolawi, who is also the Chief Imam of Area 10 Garki Mosque, Abuja, gave the advice while delivering the Jumma'at sermon entitled, "The Significance of Hajj (pilgrimage) in Islam, on Friday".
He also warned pilgrims against taking kolanuts and other banned substances to the Holy land, saying that such acts negated the teaching of Islam.
The Cleric admonished pilgrims to avoid any acts capable of tarnishing the good image of Nigeria and Islam.
"I will like to advice Nigerian pilgrims to fear Allah and do what is expected of them, and become good ambassadors of Islam and Nigeria."
"Some pilgrims travel to Makkah or Madina with the intention of stealing, prostitution, pocket and bags picking, drug trafficking as the case may be."
"These people are the ones that usually engage in fighting, backbiting, protesting for food or delay in flight schedules," Al-Yolawi said.
He called on the National Hajj Commission of Nigeria (NAHCON) to ensure that pilgrims "got value for their money".
He explained that Hajj was an obligation ordained by Allah upon every Muslim, male and female, who was physically and financially capable.
Al-Yolawi, however, said that Hajj was obligatory only once during the lifetime of a Muslim, stressing that Hajj was one of the best righteous deeds in Islam.
He said the journey to Hajj required high level of patience because it was always accompanied with difficulties such as fatigue and intolerance from fellow pilgrims.
According to him, the intention behind one's journey to Hajj must be for the sake of Allah alone as whoever performed any act of worship in order to please people or gain popularity had gone astray.
On taking photographs, Al-Yolawi warned that it was wrong to take photographs for whatever purpose while observing the Hajj rites, adding that such action could contradict pilgrims' sincerity of performing the Hajj.