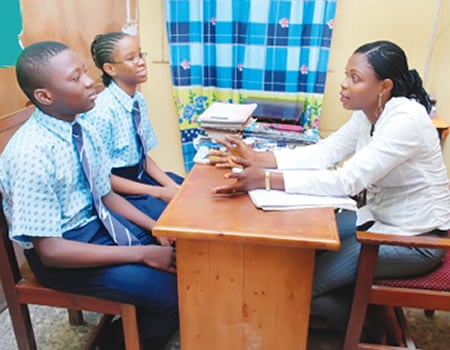 Guidance counsellors are fast becoming a rarity in schools, despite their important role in the child's all-round development. MODUPE GEORGE examines the factors responsible for this development, its effects and possible solutions.
Guidance counselling used to be moments and experiences to relish in high school days. Schools provided, at dedicated periods and at personalized levels, counselling, especially for senior classes when students have to make critical decisions.
At these crucial moments, when teenage children naturally have many questions bothering their minds, school guidance counsellors are the only professionals they have direct contact with on one-on-one basis. They are in the frontline of giving students advice on choice of careers, subjects and university applications.
In some other climes, counsellors monitor and counsel some students on suicide ideation, self-harm, eating disorders, bullying and depression.
John (surname withheld) was a student in one of the public secondary schools in the South-West states of Nigeria. He told Tribune Education that he owes a lot to counseling during his secondary school days.
He had developed a bad and nonchalant dressing attitude and was resentful towards school and life generally.
"Back in secondary school days, I could be very lazy when it came to having my bath and wearing clean uniforms to school on a daily basis. I couldn't just be bothered about my looks as a student. Due to my usual dirty appearance, my friends gave me a terrible nickname in Yoruba Language, 'Elede'(pig).
"I enjoyed playing football during closing hours, and while on the field playing, everyone would be chanting 'Elede! Elede!' whenever I took possession of the ball.  This nickname stuck, and I was always ashamed of myself and embittered within me.
"As much as I tried to appear neat during school hours, I couldn't just be up to it. Our school uniform then was white on blue, but my own white was always brown on blue.
"I hated school; was always timid and felt inferior before other students. This started affecting my academics," he said.
Several attempts to 'reform' John, including scolding, flogging and, on one occasion, having two male senior students bathe him, were unsuccessful – until finally he was made to go through counselling session in school.
It was discovered that he was subconsciously reacting to the negative nickname, and the resentment he was nursing in his heart towards everybody.
It is important to know what teenagers feel or think and answer their questions so that they don't find random solutions to their problems that can be dangerous.
Today, most parents find it hard to spend quality time with their children because of their busy work schedules.
Why counseling is important
According to Mr Olusola Johnson, a child psychologist/school guidance counsellor, when students are given proper guidance on how to deal with psychological problems, they are able to develop certain problem-solving skills which help them deal with particular issues in their lives.
"Through it, they are guided on how they should talk politely or relate with their peers. This will give them perspective on how to behave in certain scenarios, while it would also help in shaping their behaviour and instilling enough discipline in them.
"It also allows students to talk to teachers about various experiences that make them uncomfortable. They can openly share problems that they cannot share with their parents, thus bridging the gap between students and the school administration.
A fading culture
The national general secretary of the Counselling Association of Nigeria (CASSON), Dr E.A Awoyemi, also noted that schools with specialist guidance counsellors have today become more of the exception than the rule. This he attributes to the inability of government to give appropriate recognition to the profession over the years.
"Other professions have legal backing, but counselling has no legal backing," he noted.
He also lamented that in the few schools that still employ guidance counsellors, these counsellors are saddled with other responsibilities that often make their primary function ineffectual.
"They are saddled with other responsibilities. In fact, this year, majority of them are resigning from secondary schools because they now have career Masters Degrees and other businesses.
Effects on students
Stakeholders spoken to by Tribune Education all agreed that the lack of proper guidance counseling in schools is behind several vices among students today.
"Most of the social vices and other problems we see in the school system today, such as truancy, cultism, unwanted pregnancy, gang rape, loitering, mass failure, career indecision, examination malpractices, shyness, and lack of focus are traceable to this," said Dr Awoyemi, adding that recently some students were caught in a school in Ibadan where they were performing initiation rites into cultism.
The immediate part chairman of the Oyo State chapter of the Nigerian Union of Teachers, Comrade Oluniyi Akano, also noted that some schools indeed still employ counsellors but due to shortage of teachers, they are given additional subjects to teach.
"We don't have counsellors who would just sit down in the office to attend to students and schools' problems. We now give them additional subjects to teach. And since human beings are not machines, they are already exhausted by the time they want to attend to students. This is really affecting the students adversely, even the society at large," he noted.
Comrade Akano said most of the students referred to as bad today would not have been (bad). "Some of them are trainable and manageable, but when good counselling is not in place we have most of them on the streets fomenting troubles here and there," he said.
However, in his contribution, the vice principal, Emeral Laurel School, Felele, Ibadan, Mr Akinola Babatunde, said that his school recognises the importance of counseling in children's development, though he also agreed that the guidance counselor is given additional tasks.
"We give her more of counselling job than teaching job. The students are making good use of this opportunity. Apart from the fact the students go to her, whenever she notices anything that is not right among them, she calls them and talks to them one on one," he said.
Efforts of CASSON
Many stakeholders believe that the scarcity of counsellors in schools today is the beginning of the dismantling of a support service that has been built up in schools over the years. CASSON is particularly disturbed.
Professor Elizabeth Omotunde Egbochukwu, the National President, Counselling Association of Nigeria (CASSON), said "The reason we are having the problems we are having in Nigeria today is because counsellors are not fully involved in national issues. If counsellors are involved, everything will ease off.
She said counsellors are not only needed in schools, but are equally needed at the IDPs centres. "If counsellors are the ones managing these IDPs centres, they won't be run the way they are. We are not interested in money; we are interested in the future of these children. We believe once we can catch them young, then, they can be trained to be better citizens and they will add value to Nigeria."
Professor Ayo Hammed of the Counselling and Personnel Psychology of the University of Ibadan also emphasised the need for 'Save School Initiative' through professional counselling.
He said, "The 'Save School initiative' is something we have been campaigning for. I was one of the people who went to UNESCO to talk about 'Stopping violence in schools, what works?'
"There must be stakeholders in the environment to be able to put in place strategies by which nobody would be able to infiltrate into the school environment."
While updating Tribune Education on the efforts of the association in giving proper recognition to guidance and counselling as a profession, the National General Secretary, Professor Awoyemi, said the association sponsored a bill at the National Assembly last year but the bill is yet to be passed into the law.
Rev Dr Stephen Ayankeye, the Oyo State chairman of CASSON, called on the government to enlighten school principals on the need to groom children through guidance and counselling at this stage of their lives.
"We want schools to make good use of counselling in such a way that it would corroborate the teaching that is being given to children.
"We are appealing to the government to give a place to guidance and counselling for the holistic educational development of our children. Our job goes beyond just counselling students; (we counsel) even staff members, but we can only do that if given the opportunity.
"We appeal the government to give us support all over the country to be able to contribute our quota to the education of these children holistically."