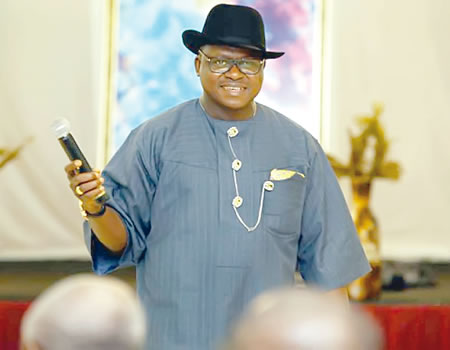 As the political activities continue to gather momentum in Bayelsa State, five youth groups with membership cutting across all political parties in the state have endorsed the former Managing Director of the Niger Delta Development Commission (NDDC), Mr Ndutimi Alaibe to succeed Hon. Seriake Dickson as governor on 
14th February, 2019
.
The groups in Yenagoa while briefing newsmen said they are calling on the Opokuma born businessman and politician to throw his hat into the arena to continue with the good works of Governor Seriake Dickson.
The groups which include Bayelsa State Advancement Movement, Committee for the Development of Bayelsa State, Concerned Progressive Youths of Bayelsa State praised the level of transformation in the state, stressing that Alaibe has the wherewithal to pilot the affairs for the benefit of the people.
Prince Peres Ogbogbo who spoke on behalf of the groups, noted that the giant stride achieved by Alaibe during his reign at the NDDC and as Presidential Adviser on Niger Delta Affairs has not been equalled by his successors and wants him to replicate same in Bayelsa State.
He boasted that they are ready to purchase the nomination  form for him, not minding any political party  platform he wishes to use to contest for the governorship position of the state, adding that they are ready to take the message to the nooks and crannies of  the state on their own expense.
Prince Peres Ogbogbo further explained that the groups opted to synergize their various positions with the aim of ensuring that Alaibe becomes the next governor, saying the groups have the required structures  across the 105 wards of the state that would enable them to achieve their target.
According to him, "we have structures across the 105 wards in the state that can give our principal Timi Alaibe the mandate to be the next governor of the state.
"We state without equivocation that we are calling on Timi Alaibe to contest for the governorship position because we trust and we are confident that with his achievements in NDDC and the amnesty office, he has the capacity to move the state forward.
They further enumerated his achievements to include, construction of roads across the Niger Delta, electrification of communities and the empowerment of the people.
"The handwritings of Timi Alaibe is all over the Niger Delta and beyond, Under his tenure in NDDC, he constructed roads, electrified communities across the Niger Delta States. It should be noted here that he was the initiator of the amnesty programme that has restored peace in the region and empower our people by building their capacities both in Nigeria and abroad"
Prince Peres Ogbogbo who is Chairman of the frontline Timi Alaibe Support Group  specifically called on him to contest on the platform of the Peoples Democratic Party (PDP) which he noted is a veritable platform to continue with the developmental strides of Governor Seriake Dickson.
"Timi Alaibe should contest on the platform of PDP because that is the party of our people, so that he will continue with the good works of Seriake Dickson who has the love and passion for the development of the Ijaw nation."