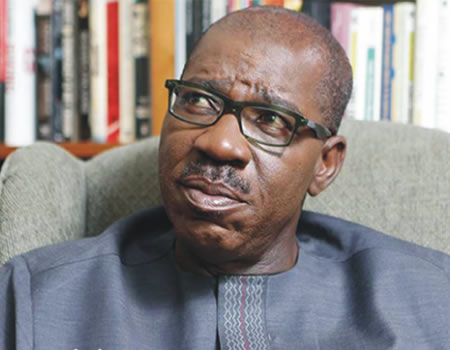 A group, Talakawa Parliament has called on Edo state Governor Godwin Obaseki to press criminal charges against crooked contractors who abandoned projects awarded to them by the Edo State Oil Producing Area Development Commission (EDSOPADEC) to serve as deterrent to other public office holders.
In an open letter Benin by the duo of Marxist Kola Edokpayi, the secretary and Mr. Wilson Imasuen, they noted that the action became necessary due to the fact that EDSOPADEC has performed far below expectations despite the huge resources at its disposal.
Edokpayi and Imasuen said that sequel to the disbandment of the board of the interventionist agency, the governor had empanelled an audit committee headed by Engineer S.I.O Osara which audited activities of EDSOPADEC between 2011 and 2017.
They noted that 46 out of the 117 projects executed during the period in oil bearing communities in Orhionmwon and Ikpoba Okha local government areas failed and were vandalized while 44 were abandoned by the contractors after collecting money.
They recalled that the governor expressed had dissatisfaction with the poor handling of projects and promised to recover the funds back from the contractors, noting that more than two months after the receipt of the audit report, he has neither recover the funds from the contractors nor prosecute those found wanting at a time Edo people are angry over the spate of looting of public funds by trustees of public agencies.
They wrote: "We are worried that those whose actions and inactions metamorphosed EDSOPADEC from being a blessing to curse to the people are still gallivanting freely on the streets, while supposed beneficiaries wallow in developmental cum economic darkness."