Gowon, Anyaoku, Fayemi, Awolowo Dosumu eulogise Afe Babalola as he bags Awolowo Leadership Prize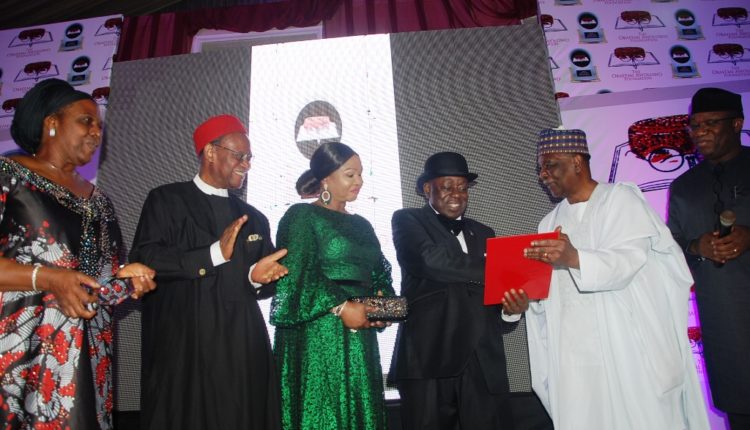 CHAIRMAN, Board of Trustees, Obafemi Awolowo Foundation and former head of state, General Yakubu Gowon; former Secretary-General of the Commonwealth, Chief Emeka Anyaoku; Ekiti State governor, Dr Kayode Fayemi, among others, eulogised the founder of Afe Babalola University, Ado-Ekiti (ABUAD), Chief Afe Babalola, describing him as a worthy winner of the 2018 Obafemi Awolowo Leadership Prize.
Only two Africans, namely the Nobel laureate, Professor Wole Soyinka and former South African President, Mr Thabo Mbeki, had, so far, won the award since it was instituted 10 years ago.
The award was presented to Afe Babalola at an event held on Wednesday at Harbour Point, Victoria Island, Lagos, by General Gowon at exactly 6.45 p.m.
Many other eminent personalities, including the former governor of Ogun State, Chief Gbenga Daniel; former Governor Ayo Fayose of Ekiti State; the Ooni of Ife, Oba Enitan Ogunwusi; the Ewi of Ado-Ekiti, Oba (Dr) Adeyemo Aladesanmi; the Obi of Onitsha, Igwe Nnaemeka Achebe and numerous others, graced the occasion.
Others were Afenifere chieftain, Chief Ayo Adebanjo; Professor Banji Akintoye; Dr Kunle Olajide; Chief Kola Daisi and Dr Christopher Kolade.
Speaking at the presentation ceremony, General Gowon said, "while we recognised the reality that no other person could completely replicate all that Chief Awolowo stood for, the selection committee for the awards was mandated not to lower the high standard, which would ensure that eventual winners possess, in substantial measure and exhibit most of the qualities that set Chief Awolowo apart from the crowd…
"And in the last two circles, however, the prize could not be awarded. But the story is different this year. Aare Afe Babalola is found worthy for the prize. His footprints like that of Chief Awolowo looms large particularly in the practice of law and in the field of education. These are two critical areas of human endeavours after the heart of late Chief Awolowo."
The former head of state congratulated Chief Afe Babalola for winning the award and the Obafemi Awolowo Foundation for recognition of excellence.
Afe Babalola a Nigerian patriot, Anyaoku says
Former Secretary-General of the Commonwealth, Chief Emeka Anyaoku, who is also the chairman, Selection Committee of Obafemi Awolowo Prize for Leadership, said the ceremony was to celebrate the award to a distinguished Nigerian patriot, Chief Afe Babalola.
According to him, the Obafemi Awolowo Prize for Leadership is awarded to individuals adjudged to have demonstrated in their public life, if not in equal measure, certainly in approximation to the attributes and achievements on which the enduring reputation of the sage, Chief Obafemi Awolowo, is based.
"It is, I believe, well known that among the attributes demonstrated by Chief Awolowo in his public life were integrity, credibility, discipline, selflessness, visionary and people-centred leadership, respect for the rule of law, accountability, courage and tenacity of purpose," he said.
This was just as he recalled that two previous recipients, Professor Soyinka and Mr Mbeki, had been awarded the prestigious honour.
"In addition to manifesting the attributes that I have already associated with Obafemi Awolowo, the recipient are adjudged to have demonstrated outstanding leadership qualities in most, if not all of the following four areas: leadership in politics and governance; leadership in corporate governance and social responsibility; leadership in educational transformation; and leadership in people-centred and support for the underprivileged," he said.
He, therefore, declared that Babalola's accomplishments and the legacies he had built in his service to the Nigerian citizens, especially the underprivileged in education and agriculture, were there for all to see.
Afe Babalola worked much same path as Awo to educate self —Fayemi
Ekiti State governor, Fayemi, said Obafemi Awolowo Prize for Leadership Award given to Chief Afe Babalola is one the recipient truly deserved.
In his remark at the event, Fayemi said Chief Babalola valued education and happened to have walked much same path like the sage to educate himself, declaring that Ekiti, from where the recipient hails, being a fountain of knowledge, equally prepared him for what was being witnessed today about him.
According to the governor, "Aare Babalola went through the same experience papa (Awolowo) went through to go to school and get educated, that is why they have both given much to education.
"For those who recognise that education is an antidote to poverty, you cannot but recognise the efforts of Aare Afe Babalola in the field of education," Fayemi said, while also adjudging the Afe Babalola Teaching Hospital, Ado-Ekiti, as the best ever in the country to be put in place by an individual.
"Papa, we are proud of you," he said while describing Chief Babalola as an exemplar, passionate believer in hard work, among others.
Afe is Awo's re-incarnate —Awolowo Dosumu
Founding member and Executive Director, Obafemi Awolowo Foundation, Dr Tokunbo Awolowo Dosumu, in her speech, paid glowing tributes to the awardee, describing him as a man who was not only eminently worthy of the honour, but who coincidentally shared many traits with the sage, Chief Obafemi Awolowo, in his journey to greatness.
According to her, Chief Babalola, like Awo, rose from humble beginnings and had to overcome formidable odds to acquire education, saying that the awardee was determined, not just to acquire rudimentary education, but to do so to the tertiary level, obtaining his Economics and Law degrees from the University of London as an external student.
"As a Senior Advocate of Nigeria, he has risen to the zenith of the law profession in this country. He has been honoured with numerous awards in the legal profession and beyond, within and outside Nigeria.
"More than that, he has impacted the lives of many through mentorship, scholarships and various philanthropic initiatives. He is a foremost advocate of human capital development, especially through education. And, the icing on the cake, he is an unrelenting proponent of political restructuring, or federalism, in Nigeria," she said, adding that "we are proud to welcome him into the illustrious company of Awo Prize awardees."