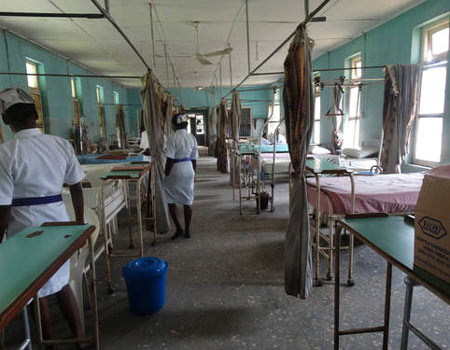 The Oyo State government says in its battle to sanitise private health facilities and curb medical quackery, it has sealed 62 hospitals and medical laboratories for various offences in the past one year.
Commissioner for Health, Dr Azeez Adeduntan, made the disclosure after Oyo State Taskforce on Private Medical Practice sealed seven private health facilities in Sepeteri and Saki and reopened one in Iseyin, all in Oke Ogun area of the state. The reopened hospital's medical laboratory section, however, remains closed.
All the sealed hospitals were not registered. One of the sealed hospitals in Sepeteri was being run by a patent medicine vendor, according to the commissioner.
Operators of one of the unregistered and nameless hospitals were said to have booked in a woman that had undergone caesarean section and an aged man who had surgery to help him urinate.
He added that another unregistered hospital had a woman that had just undergone a caesarean section, but there was no qualified health worker on the ground, in case an emergency arose.
Dr Adeduntan, speaking through the chairman, Oyo State Taskforce on Private Medical Practice, Dr Adebisi Ayoola, said another 20 hospitals and medical laboratories had letters of warning written to them.
Although five facilities were later reopened, he said their offences ranged from non-registration of the premises, unhygienic hospital environment, improper disposal of medical wastes to failure to have qualified medical staff on the ground.
He said the exercise was a continuous process to ensure that quackery medical practice was reduced in the state to the barest minimum.
The task force, he remarked was not targeting anybody or vindictive but corrective, adding that it was to ensure that all hospitals and medical laboratories, both public and private, in the state were registered and that they maintained the minimum standard of practice required by law.
Dr Adeduntan assured that since the inspection by the task force started, medical quackery has reduced by 50 per cent in the state as well as a reduction in the petition on medical negligence.
He said people are free to walk into the ministry to find out the criteria for registration on any health facility, including medical laboratories.
He, however, warned against hospitals and medical laboratories commencing operation without full approval and registration of the Oyo State government, saying operators of all facilities found culpable of any offence stand to face a penalty of N100, 000 or one-year imprisonment.