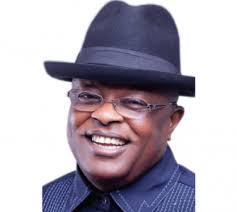 GOVERNOR David Nweze Umahi, of Ebonyi State, said that the State government may not coup to pay workers if they continue to receive 28% while the federal government receives 52% of the allocation. He then calls on the federal government and Nigeria labour congress for national dialogue, understanding and reasoning to better the country.
Gov Umahi who advocate for a readjustment on the national allocation formula to enable State governments to pay its workers and local government workers made his feelings known on Monday night immediately after the inauguration of his campaign organisation team state council in Abakaliki.
According to Governor Umahi who attributed the inability of the state government to pay workers minimum wage to poor allocation received from the federation, advised workers to look beyond minimum wage stressing that the implementation, will trigger inflation and will clean up all their benefits.
                                       ALSO READ: Embracing dialogue to promote a stable democracy
He, however,  urged workers to made open where all the resources of the country are been hidden maintaining that once all the resources are correctly collected, it shall be enough to take care of workers welfares, health facilities, education and other infrastructure in the country.
" So I, call on the civil servants to look beyond minimum wage or no minimum wage. Even if the 30% is implemented, it will trigger inflation and is going to clean up whatever gain the civil servants are going to make.
"Also States cannot cop if they continue to receive 28% of the allocation and the federal government is receiving 52% so it can't work. so we have to redistribute the allocation formula so that the state and local government will be able to pay. so it calls for national dialogue, understanding and reasoning.
" We need to readdress issues, look at our health sector, and others and place them side by side even if you pay what labour said you should pay, and you increase school fees, medical facilities cost, you have done nothing because all of them come together is a very big problem.
"The two cannot work so until we all sit down and think of how we can run this country, I don't believe that all the resources of the nation are collectively connected, "Labour have the truth of were some funds are hiding, after all there is no finances  transaction that is done in this country without the civil servants so let them sit down and say this is the places," he said.