Gospel singers are also God's servants —Oyewole
Temitope Oyewole is a fast-rising gospel singer. The Ogun State-born lady, has not only carved a niche for herself in the industry, but also explored her talent beyond the shores of the country. In this interview with OYEYEMI OKUNLADE, she speaks about life, career and the gospel music industry.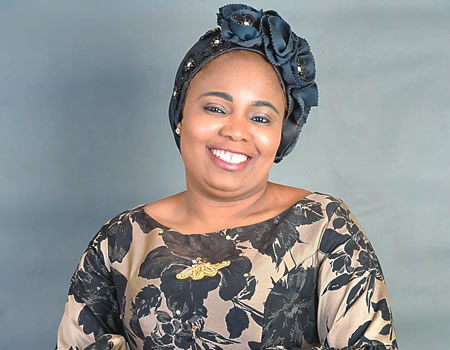 How did you discover your passion for music?
I have been singing in the choir since I was six-year-old and the zeal helped me when I was in the primary and secondary school choir. This development also gave me the opportunity to be a member of the choral group then. The passion further made me to be leading any choir group I found myself, even if I was new in the church or the group. Something will just fetch me out and place me at the top, either to be one of the lead vocals or to be the choir coordinator.
My father, who was a pastor and founder of a church also helped my career too because I grew up in the mission house and I had opportunities to learn some musical instruments even without a tutor. I can play konga drum and drum set; I am a professional in this without a trainer, but through God's grace
Why gospel music and not secular?
I was born in a mission house. I grew up in the way of the Lord and I am so sure that the only person to praise and serve is God, so, I choose to sing to and for my God. He is my inspiration and he is my passion for music. In fact, I can't sing any song outside gospel music.
At what point did you take it up professionally?
I decided to pick it up professionally in 2015. Then I decided to work on my songs, especially in the studio, actually the pace was slow, but God in His own way accelerated it and made us visible.
Are you working on any project?
Yes, it is my latest album entitled: "Fulfillment Praise", but I am currently spreading across my single to the whole world, which will serve as an appetiser to my full package. The work is all over online platform and the responses are so encouraging. The album will be released on May 30, but the single entitled: "I am Alive to Praise" is currently in the public space. The inspiration behind the new work is in Psalm 100 vs 6. I quote this scripture: 'only the living can praise God,' anywhere I am called to minister because the reason of our existence is to praise God and this act is not limited to singing alone, it is what you start from the mind and express through songs, dancing, shouting, clapping, jumping, as well as with all you have that matters.  The song is deep and instrumental to praising God. The motive is also to educate and also ignite people on the attitude of giving genuine praise to God irrespective of any situation.
What does being a gospel singer mean to you?
It means I am a minister of the gospel in music. It is not about rendering songs alone, it is a ministration whereby God performs different miracles, signs and wonders. Souls are lifted during these sessions. I don't take ministrations with levity because one doesn't know who God wants to set loose or send you to through your songs. Gospel ministers are also God's servants, through music and sometimes in the word. Our own form of ministration brings life to people and sometimes it comes in a prophetic way.
How has life been as a gospel singer?
My life as a gospel minister is a great assignment such that I have to seek the face of God often. It is time-consuming; you pray, fast and rehearse. You don't want to appear unprepared to your people, so, it is a great assignment, but all glory to God for divine grace to be able to push through.
What is your assessment of gospel music?
Gospel music is an inspiration to people and it is not a money making industry, but a soul lifting one. However, God can bless one through it, but the assignment will come first. When one's ministry profits God in winning souls, He will bring you profit in manifolds that is not limited to money, but encompassing. Though some have seen it as money making venture, personally, I see it as a great commission in my hand to preach the gospel through music.
What is your experience so far pursuing your career abroad?
Pursuing a career in the United States is not so smooth; in fact, to produce a good song is not a joke, but God's grace has been sufficient. When God surrounds you with good and right people it makes your work easier. It's not easy to combine school, work and business with ministry at the same time in the United States.
How would you compare the industry in the US and Nigeria?
The music industry, especially gospel is easier in Nigeria than abroad. In Nigeria, we have all it takes in getting instruments and things needed to bring out good music, but the requirements are very high and if you want to bring out the African music style to get all the instrumentalists together is not an easy task because all of them have one or two jobs they are doing. So, getting the best is not easy abroad.
How do you intend to expand your brand in Nigeria?
My project is one of the major steps. My ministry is not limited to Nigeria or USA, but all over the world. I believe that with God, all things are possible. I am focused and determined to fulfill God's mandate and impact lives.
What is your greatest challenge?
My greatest challenge is time. It is like the normal 24 hours is not enough for me to fix things. I trust God will give me more strength and the latitude to do exploit.
Educational background?
I had my primary education in three schools:  I had my primary 1 and 2, at St Theresa Primary School, Oke Ado, Ibadan, Oyo State. I later furthered it at Ibadan District Council (IDC) Primary School when we relocated to Odo-Ona area of Ibadan. I eventually completed it at St Leo's Catholic Primary School, at Orita Challenge. I had my secondary education at Eyinni High School, Ibadan, where my music career started unconsciously as a school choir leader. Joined Nigeria Man O' War and was also the first president of Nigerian Red Cross at Eyinni High school unit. I got admission to The Polytechnic, Ibadan, Eruwa campus in 1999 to study Mass Communication and later proceeded to the main campus for my HND in Mass Communication. I had my PGD in Theology at the Redeemed Christian Church of God (RCCG), Bible College, Lagos. I am running my Masters programme, at UTS New York campus in Family and Marriage Therapist.
Where would you like to see your career in the next five years?
I see myself at the top with God on my side. I have no limit where God is taking me to, but I am sure that it is a greater height.
Who are your role models?
Cece Winan, Pastor Donnie Mcclurkin and Pastor Moji Alawiye.
There are claims that many gospel artistes don't live on what they preach. What is your take on this?
I am a child of God and I have been a leader over decades, especially in youth ministry and I lead by example. This development has earned me lots of awards and recognitions. My principle is 'do as I do, not only do as I say'. We as Christians and ministers are what the people are reading.
What do you do aside being a gospel singer and how have you been combining them?
I am an entrepreneur specialising in fashion. I am also a student of Family and Marriage Counseling.  To combine all these with home management is not easy, but it is an assignment that must be done. To whom much is given, much is expected.