God commissioned me to minister to the world through musical instruments —Ajayi
Renowned saxophonist and music director of the Redeemed Christian Church of God, Pastor Kunle Samuel Ajayi, in this interview with SEYI SOKOYA, speaks about life at 55 and his views on the standard of gospel music industry.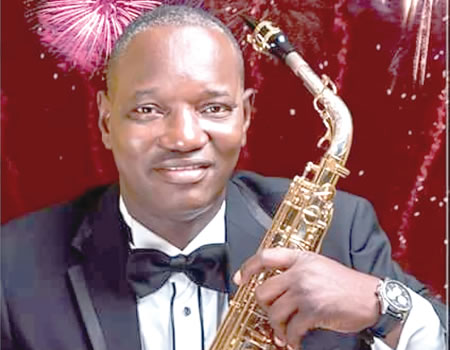 With your wide experience, what is your assessment of the in the gospel music industry?
There is no standard again in the gospel music circle, things are falling apart. Instead of the secular music practitioners to copy those in the gospel music world, majority of the gospel musicians today are the ones taking after the secular ones. That is not good enough. It is time gospel music ministers be wary of the antics of the devil and remain focused in God and not on the material gain, which many are running after.
So, what eventually influenced your passion for music?
Pastor Enoch Adeboye is the greatest influence in my life. During the holidays, he usually organised free lessons for all students in the church. He brought in some teachers to assist him in some of the subjects. The first musical instrument that I ever owned, a flute, which I play, being self-taught, was given to me by the great man of God. I later learned that his wife, Pastor Folu Adeboye, bought it for me from Kenya. Adeboye had a special interest in me and did a lot to encourage me.
However, choosing music as a profession was not easy at all. There were people that opposed my decision to venture into music. I remember a couple in the church branded me as having a familiar spirit, which according to them manifested in my ability to play the guitar and other musical instruments at an early age. This influential and wealthy couple once invited me to their house somewhere on the mainland area of Lagos. Oblivious of what would happen, I went with my guitar. The rich man's wife then seized the guitar and broke it into pieces in my presence. She also threatened to send her dogs after me if she ever saw me with a guitar again. But my mum, who also didn't want me to do music, made me realise that she was not cruel, but worried about the lack of good role models among Nigerian musicians at that time. She even went as far as praying to God to stop me from becoming a musician because musicians at that time were mainly noted for drugs and sex. No born-again Christian mother would allow her son to join such people and be wallowing in sin. Even when I attempted to join the choir, I was chased away. However, I stood my ground and with the help of God, I triumphed and went into music full time. Personally, I didn't find anyone to emulate in the industry then. But fortunately, I came across Pastor Adeboye, who was a composer of gospel songs and had recorded an album. I took him as my mentor and I was confident that I could be successful in the industry.
You have become a brand as saxophonist. At what point did you pick it up?
The saxophone with which I am very well identified came in after my healing. From my primary school, I had been diagnosed with lungs problem. I was taken to so many hospitals for treatment, but I did not find solution to it. Rather, the sickness grew worse. People in the church wondered what was wrong with me. Some wondered why I could not receive my healing in the church. Others queried what I must have done. Thank God my healing came around the time that Pastor Adeboye had a miracle baby. I used their miracle as a point of contact to pray to God for divine healing. I told God that if He healed me, I would play any wind instrument to the glory of His name. In order to fulfil my vow, I picked up the recorder that Pastor Adeboye gave me and I used it to teach myself the saxophone and other wind instruments. It is in fulfilling my vow to the Lord and in the worship of the almighty that I received my healing.
How many works do you have to your credit?
At present, I have about 20 albums. My first recording was done at Afrodisia Recording studio in 1983 and it was released in 1984. The aim of the record was not to make profit, but to pass a message I had to the public and to express God's goodness in my life. Putting the album together was a great experience. Then one had to play all the musical instruments with proficiency. There should be no mistake. Any mistake by any of the musicians meant that the particular track being recorded would be replayed and this was very cumbersome and could be a drain on the musician's pocket.
Before playing instrumental music, I used to combine singing with playing musical instruments. However, the commission God gave to me was to minister to the world through musical instruments, not in singing. Actually, I saw myself in a vision. There, I was ministering with people of different colours and we were all playing instrumental music. We did not sing. It was instrumentals. Then, as I looked through the Bible, I came to know that when the evil spirit was tormenting King Saul, those attending to him looked for someone who was prudent in playing a musical instrument. Again, when a prophet of old wanted to prophesy, he asked for someone who was skillful in playing the instrument, not in singing. The Holy Spirit ministered to me that whenever I played, his presence would be there. Initially, I was trying to mix both. It is not that it was wrong for me to sing, but what I saw was that I was playing instruments.
How have you been able to impact positively on the industry, especially on the younger generation?
We launched an entertaining and ministration programme called: "Jazz for Christ". This was the first time that we took our gospel and Jazz music out of the church environment to a relaxed arena, non-religious and commercial atmosphere. They were very successful outings. The response was good. Conservative Christians then, however, did not believe that Christians should get involved in such a programme. For the first one, I flew in from Germany to stage it at the MUSON Centre, Onikan, Lagos. There was a repeat of the show by popular demand at Lagbaja's Motherland in Opebi, Lagos. The shows stopped because of the demand and attention to be paid to other things of God, which are also very important. However, I am praying for time to create something like that again.
You clocked 55 today, what next should your fans expect from you?
I don't rush into doing album because each of my albums has its own dynamics, but very soon I will be out with another chartbuster album that will be acceptable to every individual in the society.
How was your growing up like?
I attended Eko Boys High School, Lagos State, from 1977 to 1982. Going to school was difficult because of financial challenges and I had to engage in lots of menial jobs including scavenging for metal objects in refuse heaps and selling them after weighing for a pittance. Then we were called Alumin boys or Boma boys. Along the line, I also played and taught music for a fee in various churches. However, I found favour in the sight of most of the teachers and principal of my school back then. I was in the school choir. I started and led a musical group called Lagos State Chamber Orchestra. The group then was playing classical and contemporary music. We also played personal compositions. I was also in the school choral group as a guitarist. It was in secondary school that I learnt that I could study music at the university.
Before then, I was more interested in studying Mechanical Engineering. The revelation that I could study music at the university completely changed my life.