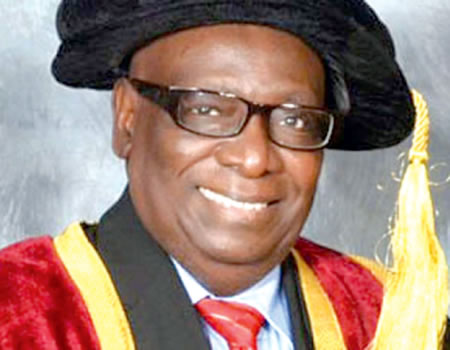 A  professor of Medical Microbiology and former vice chancellor of the University of Lagos, (UNILAG), Akoka, Tolu Odugbemi, has urged government at all levels and the universities in the country to, as a matter of necessity, give scientific and technological research works a deserved priority.
He also asked researchers to embrace the spirit of team work by embarking on joint research works.
Professor Odugbemi made the comments last Thursday while delivering this year's annual lecture of the School of Postgraduate Studies of UNILAG.
He said it is the only way Nigeria can progress meaningfully in science and technology and also in socio-economy.
Odugbemi spoke on 'Team and Divine Intervention: Reminiscences on Research Activities in a Developing Country Setting, Nigeria'.
ALSO READ: JUST IN: Sokoto governor, Tambuwal, defects from APC to PDP
The former vice chancellor said what Nigeria requires at the moment from all and sundry, including government and researchers, is to pool resources to build a modern and civilised country devoid of the age-long ethnicity, religion, greed and corruption problems.
Odugbemi, a former president of the National Postgraduate Medical College of Nigeria, said it was time Nigerian universities were truly universal and of the highest standards dedicated to effective teaching, research and community service – which he said are their primary mandates.
Nigerian universities, he said, must be able to solve societal problems associated with issues like electricity, environment, health, hunger, and poverty, among others through excellent research outputs.
He said government would need to fund universities better by providing conducive environment for teaching and research, while researchers should be innovative, resourcesful and committed to doing what others have not done with a view to making Nigeria a better place for all to live.
On his part, the chairman on the occasion and General Overseer of the Mountain of Fire and Miracles Ministries, Dr Daniel Olukoya, said of a truth, meaningful research works that involve team work and divine intervention would go a long way in putting Nigeria in the comity of prosperous countries.
The vice chancellor of UNILAG, Professor Oluwatoyin Ogundipe, in his address of welcome, said UNILAG is known for quality research works and would continue to sustain the tempo.