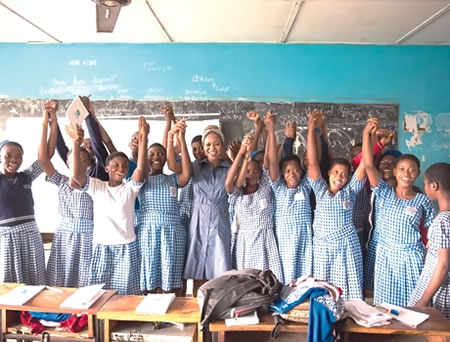 LAGOS State government has said that girl-child education is a critical issue and, therefore, very vital to national development.
Permanent Secretary, Office of Deputy Governor, Lagos State, Mrs Yetunde Odejayi, said this at the opening ceremony of the 2018 Leadership Summer Camp for girls in secondary school across Education District 1 of Lagos State, which took place at the Government College, Iyana Ipaja.
He declared that the state government was not relaxing, but putting every resource together to encourage girl-child education in the state.
Over 1,000 students are participating in the summer camp, organised by a non-governmental organisation, Ornament of Grave and Virtue (OGAV)
ALSO READ: After extensive consultations, I've decided to take my leave from APC – Saraki
The permanent secretary, while expressing her joy and excitement over the initiative, said that organising such a programme toward girl-child development was a worthwhile investment, noting that it would go a long way in changing their mindset toward their career and life and of course helped the nation in general to avert poverty.
Odejayi, therefore, encouraged the school girls to take full advantage of the knowledge they would gain in the week-long summer camp, even as she prayed that they would fulfill God's purpose for their lives.
While encouraging the participants to work hard and be prayerful, she commended the organisers for a job well done, assuring that "the state government does not joke with girl- child education" and would need more NGOs to help in achieving this objective.
In her address, OGAV founder, Mrs Olubusola Kolade, said the NGO had empowered over 1,000 school girls on career exploration, noting that the aim was for beneficiaries to take charge of their career by themselves without their parents choosing for them as the days, when parents chose career for girls were over.
Kolade, however, said that the NGO was not replacing the Teachers' Education, pointing out that OGAV was into learning beyond classrooms.
According to her, it is an initiative which is in the co-curriculum programme for girls in secondary schools, saying that Summer Leadership Camp worked along with teachers in schools and also parents so as to make sure that the students had a well balanced education.
In her remark, one of the organisers, Mrs Risikat Philips, on behalf of the NGO thanked the Lagos State government for opening door for OGAV to encourage and empower school girls in the state through the Education District 1.