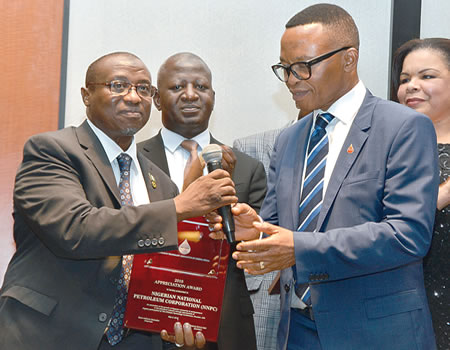 Stakeholders in Nigeria's oil and gas industry converged on Houston, Texas, United States of America, for the 2018 edition of Offshore Technology Conference (OTC) to find a permanent solution to gas flare challenge in the country. OLATUNDE DODONDAWA who was there brings the report.
Introduction 
The inability of oil and gas stakeholders to derive sufficient economic benefits from the utilisation of associated gas has been a source of concern.
This is because despite recent efforts by the Federal Government to encourage the utilisation of natural gas for power generation and industrialisation, the World Bank's Global Gas Flaring Reduction Partnership recently reported that Nigeria is the seventh highest gas flaring country in the world. About 800 million standard cubic feet (Mmscf) of gas is flared every day.
However, in its bid to drastically cut down gas flaring and convert flared gas to economic use, the Federal Government launched the Nigerian Gas Flare Commercialisation Programme (NGFCP).
It is for this reason that the Nigerian delegation to Oil Technology Conference (OTC) 2018 coordinated by the Petroleum Technology Association (PETAN), x-rayed the theme: "Nigeria's Gas Flare Commercialisation: Prospects and Opportunities."
Leading the discourse was the Group Managing Director of the Nigerian National Petroleum Corporation (NNPC), Mr Maikanti Baru, supported by the Managing Director Nigeria/Mid-Africa Business Unit, Chevron Africa and Latin America Exploration and Production Company, Mr Jeffrey Ewing.
Others are Managing Director, Nigerian Liquefied Natural Gas (NLNG), Mr Tony Attah; Group Managing Director/CEO, Shoreline Energy International, Mr Kola Karim; Special Adviser on Energy to the Central Bank of Nigeria (CBN) Governor, Mr Ebipere Clark, and the Technical Assistant to the Director of the Department of Petroleum Resources, (DPR), Dr Nuhu Habib.
Baru said natural gas was capable of transforming the economy, adding that the growth of Qatar, Saudi Arabia, Russia, Trinidad and Tobago was anchored on gas, saying natural gas can do same for Nigeria.
NNPC's position
Baru announced a three-point smart strategy aimed at ending gas flaring in the nation's oil and gas industry by 2020, adding that in the last decade, gas flaring in Nigeria had reduced significantly from 25 per cent to 10 per cent.
According to the GMD, the multi-pronged approach taken by the NNPC would ensure a sustainable solution to the historical problem of flaring, thereby turning waste into dollars.
''The three-point strategy championed by NNPC to arrest the growth in gas flares includes ensuring non-submission of Field Development Plans (FDPs) to the Industry Regulator – the Department Petroleum Resources (DPR), without a viable and executable gas utilization plan, a move aimed at ensuring no new gas flare in current and future projects."
The other two strategies, Baru added, were a steady reduction of existing flares through a combination of targeted policy interventions in the Gas Master-plan as well as the re-invigoration of the flare penalty through the 2016 Nigeria Gas Flare Commercialisation Programme (NGFCP) and through legislation, that is, ban on gas flaring via the recent Flare Gas (Prevention of Waste and Pollution) Regulations 2018.
This development, Baru added, would not only see Nigeria dropping from being the second highest gas flaring nation in the world to seventh, it would also signify a major milestone in its gas commercialisation prospects.
"Total flares have significantly reduced to current levels of about 800mmscfd and in the next one to two years we would have completely ensured zero routine flares from all the gas producers," the GMD stated.
Baru, maintained that huge opportunities abound in Nigeria's Gas Sector, with the country expecting over $25 billion investments anticipated over the next 10 years.
Economic loss to gas flaring
NNPC had stated in its Monthly Financial and Operations Report for November 2017, that oil companies operating in the country flared a total of 301.69 billion standard cubic feet of gas between November 2016 and November 2017.
Using the exchange rate of N360 to a dollar and the Domestic Supply Obligation (DSO) price of$1.50 per 1,000 Standard Cubic Feet (SCF) of gas, this translates to a loss of N162.912 billion.
Recall that Baru, had at the 2018 Oloibiri Lecture Series and Energy Forum (OLEF), organised by the Society of Petroleum Engineers (SPE) said that Nigeria is currently losing N868 million daily to gas flare, adding that oil and gas firms operating in the country are currently flaring 700 million standard cubic feet of gas per day.
Baru, had lamented that the 700 million Standard Cubic Feet (SCF) per day of gas that oil firms are flaring, was capable of generating an equivalent of 5,000 megawatts of electricity per day
Past efforts to stem the tide without result
Previous efforts by the Federal Government to curb incidences of gas flaring have yielded little fruit. The gas-flaring charges imposed by the Associated Gas Re-Injection Act (AGRA) on oil producing companies are comparably negligible.
To compound this issue, the Tax Appeal Tribunal has held that levies paid for flaring gas under the AGRA are tax deductible. The implication is that oil producing companies can flare as much gas as they want to, and deduct the levies they pay for flaring this gas from their taxable income.
Stakeholders' reaction
Habib said from the regulatory point of view, penalties are not essentially drivers of investment. He said government incentives are the major drivers of investment.
He said for the gas flare commercialisation to be realistic, the issues around markets, policy and regulation, finance and technology must all be resolved.
The technical assistant maintained that the issue of gas commercialisation policy is all about leveraging on the "7-big wins" anchored on gas revolution which is one of the key elements of the 7-big wins.
He said there are about 139 gas flare sites in Nigeria, adding that out of the 139, 35 to 50 per cent of the sites constitute 80 per cent of our flares.
He said the DPR recognises the fact that absence of infrastructure remained a major reason why an operator may not be in a position to monitise gas flare.
"Today, there are a lot of funding from development partners; including the World Bank, DFID, AfDB that operators can access in a bid to support them acquire the technology needed to curb gas flaring," he said.
For his part, Attah said NLNG is in the forefront of gas commercialization and monetisation, saying NLNG was set up to end gas flaring and monitise gas resources.
"Today, the whole world flares about 140 billion cubic meters which is almost about 5tcf of gas on an annual basis which is more than 700 billion kilo watt hour sufficient to power the whole of Africa over and over again.
"Russia remains in the first position of gas flaring nation in the world, flaring 15 per cent of total gas flared in the world. Nigeria was in the second position, but between 2006 and 2016, Nigeria progressed to the seventh position. US flares more gas than Nigeria does," he said.
Attah, disclosed further that Nigeria is now behind Iraq, Iran, Venezuela and Russia, saying Nigeria has moved from more than one trillion cubic feet (tcf) of gas being flared to within 300 billion cubic feet which is equivalent to about $800 million being burnt away on an annual basis.
''The reason why I am at this conference is to tell operators that we should stop gas flaring. Though, we are not directly involved on the supply side in the value chain but on the demand side, we are by far the biggest receptacle of gas in Nigeria. Of the eight bcf of gas produced in Nigeria, we take about 3.5 bcf on a daily basis and we have capacity to take more.
"Our vision is to help build a better Nigeria by ending gas flaring and monitise gas as a biggest resource in Nigeria,» he added.
Ewing said the global gas market is becoming more competitive and more important for Nigeria.
He said it is important that the current ongoing legislation and policy efforts going on in the country come out with globally competitive fiscal policies to be able to unlock the vast resources, saying without these commercially viable policies, it will be difficult to unlock the resources we have.
He explained that with the growing global need for gas the expectations for the gas market in Nigeria remain high and provide opportunities for investment in the sector