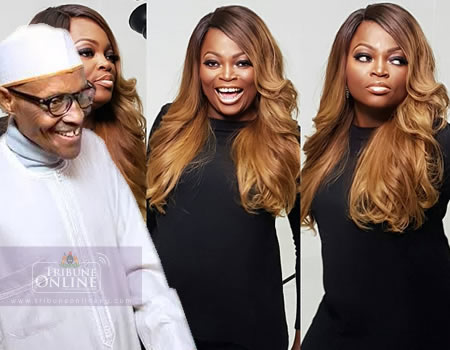 Top on the Google search engine this week are rumors of Funke Akindele's pregnancy during a hosting gig, President Muhammadu Buhari's speech after his return from London medical vacation and the Joint Admission and Matriculation Board (JAMB) result.
The issues dominated searches on the internet via Google search engine this week, the organisation has announced.
Mr Taiwo Kola-Ogunlade, Google's spokesman, who disclosed this in a statement on Friday, August 25, 2017, said on the list of top trending search terms on Google this week range from JAMB news, Buhari Speech, Funke Akindele pregnancy and Chelsea vs Tottenham.
The Google Trends launched in May, 2006, allows one to see how popular, search terms and its demography have been over time on Google.
"Nollywood actress Akindele sparked rumors of her pregnancy last weekend during a hosting gig.
"The Jenifa's Diary star was photographed rocking a loose denim dungarees dress and sneakers as she chatted up fans during the event in Festac town, Lagos.
"This comes months after Funke's husband, Abdul Rasheed Bello, a.k.a JJC, debunked rumours of her being pregnant with twins.
"Without waiting for the couple to officially announce the pregnancy, excited fans took to Google to search, download and repost pictures of the actress, with congratulatory messages," Kola-Ogunlade said.
According to Kola-Ogunlade, anyone who studied in Nigeria would understand the ongoing anticipation around the JAMB results, which were recently released for 2017/2018 admissions to universities, polytechnics and colleges of education in Nigeria.
The eagerness to know which university they were eligible to apply to,according to Kola-Ogunlade, "got students visiting Google search for information."
"Citizens that missed the president's broadcasted speech went to Google to search for the transcript," he said.
Kola-Ogunlade said that the Nigerian President, Muhammadu Buhari speech after his return back to the country after three months of medical leave in the United Kingdom got people's attention online.
Also, Kola-Ogunlade said that in the world of sports, Chelsea and Tottenham meeting on Aug. 20 in Tottenham's first Premier League game at their temporary home, Wembley Stadium got people searching online.
"The match ended in a 2-1 win for Chelsea, which leaves both clubs at a total of 3 points each in the Premier League.
"Football fans searches Google for the latest Premier League results," Kola-Ogunlade said.
In Kogi State also, on Aug 22 that the Kogi State Commissioner for Health, Mr Saka Audu reported an outbreak of gastroenteritis in the state, got people searching for the issue on Google, Kola-Ogunlade said.
He said that 62-people were reported to have died from the disease, of which Kogi State had stated that they were transferring affect patients to the Specialist Hospital, Lokoja for specialist treatment.
Kola-Ogunlade said that concerned Nigerians went to Google search to find out more information about the killer disease and how to prevent it.