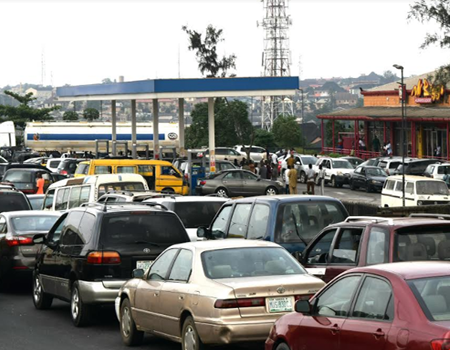 DESPITE the assurance given by the Nigerian National Petroleum Corporation (NNPC) that petrol would be available before Christmas to enable enormous Nigerians travel for Yuletide, thousands of travelers again stranded, on Saturday, in Abuja, as Abuja to Ibadan in Oyo and Lagos States respectively were billed for N10,000.
Nigerian Tribune's visit to some of the motor parks within the Federal Capital Territory (FCT), Abuja especially popular ones like Jabi; Gwagwalada; as well as Giri junction and Air-Port road, where travellers from Abuja to anywhere in Southern part of the country normally got vehicles, thousands of travellers were seen with their luggage lamenting bitterly over the ugly situation.
Nigerian Tribune findings showed that from Welcome to Abuja down to Gwagwalada, about 40 minutes drive, the whole places were flooded with travellers looking for lesser prices.
This, according to one of the National Union of Road Transport Workers (NURTW) members, who preferred anonymity said what happened was as a result of fuel scarcity.
"Many of our buses are still at the filling stations as am speaking with you now. They went to queue and there is no way those who bought black market will now be running the businesses at lost. Any drop from here in Abuja to Akure is N7,000 as against N3,000 before fuel scarcity.
"Before this scarcity, Abuja to Ibadan and Lagos is less than N5,000, and if you don't want to use motor park, you need to stand by the road side, and that one is just between N2,000 and N3,000. So, the situation is so pathetic and we can't help the situation," he lamented.
Some of the travellers, Godwin Okwonko; Tunde Adeogun; Samuel Sunday; as well as Magdalene Idoma and Adekunle Bakare, who spoke with Nigerian Tribune said if they were unable to get N5, 000, they might shelve their trip till first week in 2018.
According to them, "why will someone use almost N10, 000 for transportation? This is unfair. We have stayed here more than five hours since 4:00 a.m."
In a telephone interview, however, the Group General Manager (GGM), Group Public Affairs of the Nigerian National Petroleum Corporation (NNPC), Mr Udu Ughamadu, said the Group Managing Director (GMD) of the corporation, Dr Maikanti Baru has directed that all NNPC retail stations must always open for business with a view to curtailing the situation.
He lamented that Tanker Driver Association and National Association of Road Transport (NARTO) have confirmed that their members were diverting the product to unknown locations.
Mr Ughamadu, who said the NNPC refineries have hit up their productions so as to ensure availability of the product before, during and after festive period, added that security operatives were cooperating with the corporation to monitor and bring normalcy to the sector.
According to him, "we held a meeting with tanker drivers association and NARTO yesterday, and both parties confirmed that their members have been diverting product.
"Suddenly, the domestic consumption went up from 30 million litres per day to 80 million litres per day. The point remains where is this balance going? Which means there are lot of leakages taking place in the system inform of diversion and smuggling of the products?
"Yesterday (Thursday), eight trucks were going to Bauchi State, but not a single truck arrived Bauchi. But the surveillance efforts are on and the security agencies are also cooperating with the NNPC to ensure that normalcy returns to the various retail outlets," he assured.