FRSC boss laments underhand dealings in licensing offices
• says applicants are charged N20,000 for N6350 driver's licence • decries violent attacks of officers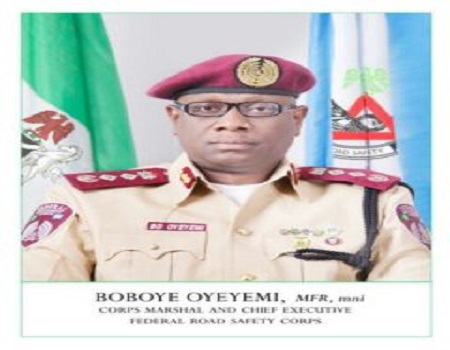 THE Corps Marshal of Federal Road Safety Corps, Dr Boboye Oyeyemi has insisted that the use of google map while driving is against traffic regulation and that the Corps is considering stiffer penalty against use of phone while driving.
He frown at the underhand dealings in the driver's licence offices across the country saying a driver's licence cost N6,350 for three years and for five years N10,500 and for motorcycle N3,000.
Oyeyemi, spoke on Friday in Abuja at the mber months safety sensitization forum oranised by FRSC in collaboration with the Federal Competition and Consumer Protection Commission (FCCPC).
He said: "But you see people demanding for N20,000, 25,000 and i say they are fools, because it is very clear. I produced banners for all the licensing offices and within two weeks, they were destroyed because people do not want the truth because we stated the prices".
He disclosed that when people pay the N6,350 to the bank, they are asked to pay administrative fees, which according to him was unnecessary and a cheat on the consumers.
In the same vein, Oyeyemi noted that number plate is N12,000 but said, "all wrong fees are being charged", urging the Director General of Federal Competition and Consumer Protection Commission (FCCPC) to beam searchlight on the fraudulent activities licensing officers.
He also decried the high level of violent attacks on the FRSC personnel on legitimate duties leading to death and maiming of many officers.
On the use of Google map while driving, the Corps Marshal said there was no way one could hold phone with one hand and using one hand to drive.
He said the law is very clear, "use of phone while driving is wrong," saying this was a distraction and against traffic regulation.
He noted that even in developed countries, they are coming up with stiffer measures on the use of phones while driving because of the risk involved, including withdrawer of licence.
ALSO READ: Aisha says 'bad people' took over Nigeria from Buhari
He said the fine for traffic offence would soon be increased to N50,000 from the paltry N4,000 to serve as deterrent, explaining that this has been encapsulated in the proposed amendment to the FRSC Establishment Act.
Oyeyemi, also revealed that it was against the law for a learner driver to carry passengers, expressing regrets that when such persons were arrested the next thing was for them to hire lawyers write to intimidate and harass the Corps personnel.
He said the Corps would have to recruit more lawyers next year to be able to handle all such cases, saying he was ready for court cases.
"The public must understand and appreciate the efforts of the law enforcement agencies. I am ready for court cases, it cost me nothing," he said.
He said the Corps has witnessed increase in aggressiveness of road users, saying the level of assault on FRSC personnel in recent time has been unprecedented.
Oyeyemi, revealed that so many of the Corps' personnel were killed and others maimed on legitimate duties through violent attacks by motorists.
He disclosed that the Corps would shut down the Headquarters from 15th of December, 2019 for the end of the year patrol, which would personally lead with deployment of personnel across the country.
"If you have any business to do with us, you have one more week, otherwise we will not be available until 15th January, 2020," he said.
He emphasised that government agencies need to collaborate in order to deliver efficient and effective services the citizenry, stressing that for the Yuletide patrol, FRSC would be collaborating with the police and other relevant agencies to make the highways safe.
Oyeyemi, lamented that most of the driving schools in Nigeria lack integrity, saying some of them collect money from the would-be applicants and told them to come back in 30 days to collect certificate without any services rendered to them.
He said, "many of the driving schools lack integrity and that is why we are still having problems on our roads.
According to him, when one enrolls as an applicant, he or she was supposed to be taken through both theoretical and practical aspects of the training and after which the applicant is tested on theoretical knowledge and practical driving skill before going to the Vehicle Inspection Officers (VIO) for driving test.
"But when you collect money for applicants and told them to come back in 30 days to collect certificate, you are undermining the security of this country and safety of road users," he said.