From Kaduna to Oyo: How we crossed many rivers, slept in many forests with our families in search of vegetation, water —Fulani herdsmen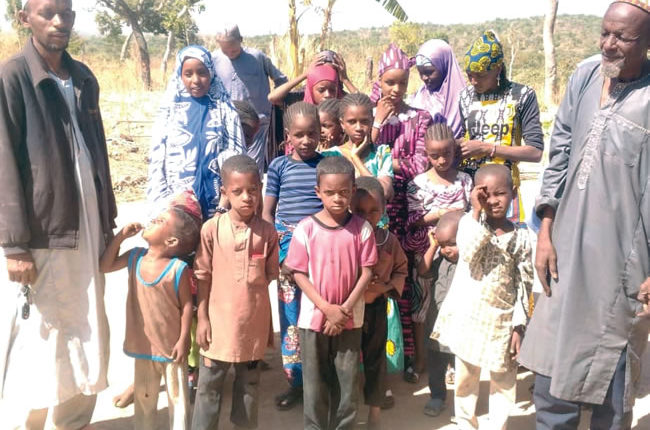 Recently, there were reports of the return of Fulani herders from the South-West, to Ladduga in Kaduna, following reports of fatalities resulting from farmer-herders' clashes in parts of Oyo, Ondo, Ekiti and Ogun states. Northern Bureau Chief, MUHAMMAD SABIU, in this piece, reports the Fulani herders' preference for the South-West, their challenges and dilemma.
The journey to Ladduga is a hectic exercise. Driving from Kaduna to Kachia takes more than one hour; from Kachia to Ladduga is close to an hour. The beautiful thing is, if you want to get there in time, you ride on a motorcycle. On a motorcycle, you spend 40 to 50 minutes riding through the footpath. But to cover the entire four settlements, one would spend four to five hours.
Ladduga is one of the grazing areas established by the state government, as part of efforts to end the perennial crisis affecting herders and the indigenous community.
The entire Ladduga community is a Fulani settlement, which is surrounded by a forest and mountains.
It was from here, eight years ago, that a Fulani clan decided to leave their ancestral home to settle in Oyo state. The head of the clan, who is also a herder, Mallam Musa, said four settlers from Ladduga community of Kachia Local Government Area of Kaduna State, left their abode in 2013 with a few members of their families, to Oyo State.
Moving from Ladduga to Oyo
According to the leader of the clan, the decision to move to Oyo state was taken because there was no more grass in the area for grazing and their animals were falling sick.
"Nobody forced us to leave our communities. We were born here and gave birth to our children here," Musa said.
Explaining further, he disclosed that the Fulani are traditionally nomads who move around because of their cattle. He said the choice of Oyo was strategic, because as a young man, he used to come to Oyo with his parents.
"We know the area very well. We know there is a vast land with enough grass to feed the animals," he explained.
According to him, it has been the practice to feed the animals and return to their native community after one season (one year). He also said they were aware that there were plenty streams and rivers in the area, just as he revealed that water remains very essential for grazing.
Recalling how they made the journey to Oyo eight years ago, he told the Nigerian Tribune that the journey to the South-West was hectic.
"Since we came with our wives and children, we did not expect the journey to be smooth. We left during the rainy season. We have about four infants; their mothers had just given birth. So, after trekking for miles, we stopped to allow the mothers breastfeed.
"We had little food. For a better part of the journey, we depended on milk squeezed from the breasts of our cows. Sometimes, we bought bread and took with coke," Musa said, adding that it took them a long while to arrive Oyo State.
He also noted that the rainy season and the harmattan made their journey stressful. More so, some of the children fell sick. However, "after crossing several rivers and forests," they finally arrived at their destination.
For Ibrahim Abdullahi, a young herder, when the Fulani natives arrived Oyo, they settled near a forest. The choice to live close to the forest was to ensure ready access to food for the animals.
"You know these animals feed on grass and water. So, while grazing, if we come to an area where there is plenty grass and water, we automatically adapt and make it a home.It is not that we claim ownership of an area. We get attracted to such areas, because of what the animals will feed on. That's what make us to be happy. And that was why we settled in Oyo area.
Explaining how they got to Oyo, Ibrahim remarked that there are cattle routes leading to the state.
"Our parents know all the routes. They used to tell us how several years back, they went there to graze. Grazing in Oyo town was good. We lived happily with the host communities. They were hospitable and warm. However, recent happenings in the South-West started sending signals to us that we have to take precautions," he stated.
From Oyo to Benin Republic, and back to Kaduna
Weeks before reports of the eviction notice issued to herders became public, according to the leader, the Fulani settlers had met and agreed to go back to their area in Kaduna.
"One month before the attack, we evacuated our cows to Benin Republic. Our relations are there. Benin Republic has thick forest and streams for grazing," Musa stated. He told the Nigerian Tribune that they could not evacuate other animals like sheep, goats and chickens.
Recalling how the family escaped, he said: "We told our wives to start packing every useful thing. After that was done, one day, as early as 3a.m, we began the journey back to the North."
He said they arrived a town in the morning, and when the people understood that they were on transit, they became friendly with them and even offered them food, adding that after staying for some hours, they moved through the forest before getting to Ilorin and finally back to Ladduga in Kachia.
'107, not 4,000,, herders came back to Kaduna from the south'
Speaking in an interview, the head of the Fulani community in Ladduga, Ardo Goge, lamented that when he heard that 4,000 herders from the South came back to his community, he and other residents were shocked.
"Honestly, as a leader, I know those who came back from the south in recent times. I can tell you that only 107 of them arrived Kaduna with their children, wives and elders, and they trekked through the bush paths before arriving here.
"The returnees are well known. This is their base. They are welcome. They are our blood. Unlike the narrative that most of the herders are criminals, these herders are peace-loving people. They have kept an impeccable good record, even before they left Ladduga community to the south," Goge said.
To this end, he faulted the claim that 4,000 herders arrived from the south.
"Let the SEMA officials and the NGOs who said such numbers are in this domain show me the herders. We visited all the new settlements with some journalists and other stakeholders so as to debunk the report on social media that say there are over 4,000 herders. These herdsmen are our own people, and we have been living with them in peace and harmony for many years before they migrated to the south. Now, they are back due to threat of attack.
"They are not foreigners; they are Kaduna indigenes. It's the crisis in the South-West that brought them back. We have given them places to stay. I told them to clear the bush, so that they can start building their new homes," Goge added.
In his remarks, Dr Saleh Momale, a former Permanent Secretary with the Kaduna State Peace Commission, and now a senior lecturer at Bayero University, who is also a resident in the community, participated in the fact-finding mission at Ladduga community.
According to him, since he got the report of the 4,000 herders, he had spent the whole day with other stakeholders traversing the forest. He said they moved from one mountain to another in the search of the migrated Fulanis from the south, but they could not find more than 107 Fulanis who relocated to Kaduna.
'No clothes, no shelter; we need assistance'
Speaking further, the leader of the Fulani returnees, Mallam Musa, lamented that although no life was lost during their journey back to Kaduna, they lost houses, hundreds of goats, sheep, fowls, and other domestic items.
One of the female returnees, Hajiya Musa, also revealed how she lost all her animals due to migration down to the North.
The young herder, Abdullahi, who also lamented his loss after the relocation, urged the state and the federal emergency management agencies, as well as non-governmental organisations (NGOs), development partners and religious leaders to come to their aid.
According to him, they are hungry and their children sleep under trees and are exposed to the cold weather.
"The weather is really cold, and we don't have clothes and shelter," he said.
He also called on Miyetti Allah Cattle Breeders' Association of Nigeria (MACBAN) and all Fulani organisations to look into their plight as they settle down to begin a new life.
SHOULD NOT MISS THESE HEADLINES FROM NIGERIAN TRIBUNE
Nigeria's COVID-19 Infections, Recoveries, Deaths Dropped Last Week
Nigeria recorded a slight reduction in the number of COVID-19 infections, recoveries and deaths last week, Tribune Online analysis shows.
Last week (February 14 to 20), 5,849 new cases were reported in the country, the lowest in seven weeks.
The last time Nigeria recorded such a low figure was in the December 27 to January 2 week, when it reported 5,681 cases…
FG Owes Varsity Workers Over N150bn Earned Allowances
The Federal Government is owing the university workers, under the National Association of Academic Technologists (NAAT), the Senior Staff Association of Nigerian Universities (SSANU) and the Non-Academic Union of Universities and Associated Institutions (NASU), over N150 billion earned allowances…
Killer Herdsmen: Untold Story Of Ibarapa's Worst Nightmare + VIDEOS
"Please do not talk to my father. He is yet to come to terms with the death of his son. It is the most tragic experience. How does one quantify the loss of a dear brother? My brother was killed like an animal by two herdsmen. His offence was that he asked them to drive their cows off his already cultivated farmland," Bisi Olaosepin, whose brother was hacked to death, struggled to hold back his tears as he relayed to Sunday Tribune the horrible experience that culminated in the passage of his brother…Alleged fraud: Arraignment of former Aviation Minister, Stella Oduah, stalled