From firewood to gas: Nigerians speak on why they follow modern trend in domestic cooking
THOMAS PHILLIP, SUBOMI AKINTUNDE and TOLU OGUNYINKA write on why Many Nigerians have shifted from using firewood to cooking gas taking into consideration the cost and health implications.
GONE are the days when almost every household in this part of the world was using either charcoal or firewood as their cooking fuel. In spite of that, there was still enough wood in the bush to sustain this method of cooking for centuries, but then time changes. Though firewood and charcoal are still available, most households have moved towards cleaner energy.
Initially many households migrated towards kerosene stoves, but with time kerosene as fuel became costly and scarce. Not only this, fuel stations where kerosene were available were always scenes of confusion and rowdiness making it difficult for those who could even afford it to purchase the commodity.
With time an average urban dweller began to count the costs and weigh the options and differences between a hitherto available but "expensive gas" and the scarce but equally expensive kerosene.
Today almost everybody in urban centres across the country uses domesticated gas for their cooking. However, every user has a reason for using the gas or other means for domestic cooking.
Miss Bunkumi Olarenwaju believes gas is expensive but she uses it for her cooking. She has always done so mainly because she cannot stand the smoke that comes from using firewood.
"I have always been using gas right from the start. Gas is more expensive though but I still prefer it to firewood because of the smoke. I can't just stand the smoke," she said.
Mrs Ikotun Bolaeko is a roadside akara and beans seller. For her, firewood, which she was using is cheaper but with time she began to feel uncomfortable with the smoke that comes with using it.
"I (now) prefer gas to firewood because the smoke from firewood or charcoal affects my eyes though firewood is cheaper; but because of this smoke issue I prefer gas though I still use both," she told Sunday Tribune.
Mrs Elizabeth Dorvi, a potato seller said she's using gas because that is what everyone around her uses and she believes it is the modern trend therefore she should move with the times.
"Most people are using gas and the world is now more civilized and that's the trend now and one must follow the trend. Also the environment in which I cook can't allow me to be using firewood because this place is an open place. I prefer gas though the cost is higher than that of firewood," she told Sunday Tribune.
Mr Bayo Kushimo a potato/yam seller also uses cooking gas for his business, also because it is the latest trend, an effect of globalization.
"We are in era of globalization so we have to follow the trend," he said adding that "cooking gas is the (latest) trend and most of the (kerosene) stoves being produced now are not good enough, they make the pots black. Kerosene gets dry easily. For instance if I get a bottle of kerosene it dries up within 20 minutes of usage but gas is faster and the kitchen environment is neat."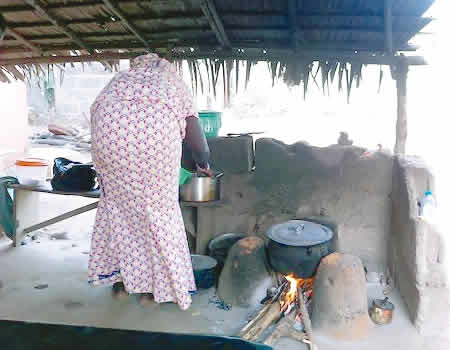 Miss Owabire Adeoluwa a food seller toes the same path of argument with Mr Kushimo on the issue of gas cooking faster than charcoal or firewood and leaving the cooking environment clean and smoke-free.
"Gas is better than charcoal health-wise," she said adding that: "From my own perspective, gas is more expensive because I fill my 88kg gas cylinder for N22,000 and it lasts for 3 weeks, unlike my colleagues who uses firewood and spends just N3,000 worth of firewood for a week."
However, not all firewood users agree with Miss Adeoluwa.  One of them is Mrs Toyin Esanmah, who sells cooked rice and uses firewood because her gas cooker is currently faulty. From her own experience Mrs Esanmah says firewood is way better than cooking gas because it cooks food well and it is also faster.
"Firewood is more expensive than gas. A pack of firewood is N250 and I use about five or more packs to cook. A kilogram of gas costs N250 and I cannot finish 5kg in a day, so firewood is more expensive.
"However, firewood is bad for our health but because I cook in an open space I feel it is okay. If I was cooking in an enclosed area I would not use firewood because the smoke coming from it is dangerous to health and causes lungs and kidney problems," she said.
Mrs Funmilade Ademuyeje also uses gas for her cooking. She starts her cooking using gas then transfers it to a coal pot because of the food stuff she cooks which she wants to keep warm. However the main reason she uses cooking gas was because the smoke was affecting her eyes in the process of making the fire.
"Firewood has so many difficulties attached to it. Part of this causes sight defects. Sometimes, I blow into the wood so as to produce fire and while I am battling with that I inhale a lot of smoke. Gas is expensive but the profits come in," she said.
ALSO READ: The love of bandits
Cheaper and cleaner
However, there are those who used mixed fuels for their cooking. One of them is Mrs Olalekan Adepeju, a potato/yam seller who uses gas, charcoal and firewood to cook. I use all these depending on what I want to cook. Gas is the best for me because it is cheap and easy but firewood is faster for me. I prefer both gas and firewood though because they are both fast and they cook the food well.
Sunday Tribune spoke with a cross section of those who sell cooking gas on how business is moving and the number of their clientele. Miss Abiodun Oluwatosin who works as an attendant at a filling station said a kilogramme of gas at her station is N240 and people come with cylinders ranging from 3kg to 50kg.
According to her, the reason many people come to buy gas was because it is cheap and affordable in the sense that one could buy any amount of gas that one could afford at any given time.
"Mostly, people now go for gas because it is easy to use and it is cheap. Likewise it is very fast compared to other fuel," she told Sunday Tribune.
She, however, advised that though affordability and cleanness attached to using cooking gas is undisputable, users should be very careful while using it and make sure that they put safety first.
Another attendant at a cooking gas station in Ibadan, who wants to be identified simply as Victor, said many people using cooking gas today do so because it is economical and one could monitor its usage and make it last for a long time. He alluded to some of his neighbours who use a 6kg gas cylinder for two and a half months.
Olamilekan Ojo is a fashion designer and bachelor who cooks by himself. He has discovered that using kerosene stove for cooking could be strenuous and tiring, but he has stopped that and switched to using cooking gas.
"I have been using cooking gas for the past two years, because it is less stressful. As a guy, cooking alone is very stressful, not to talk of using kerosene. Kerosene is too stressful and tiring. Sometimes when I returned home from work, I would then begin to think of how I would light the stove and all that, but since I started using cooking gas it has become easier and I don't have to go through stress before cooking," Ojo said, confirming the reasons many Nigerians have joined the cooking gas train.
Today, for most Nigerians, the era of getting red and watery eyes from the fume from kerosene stove is over, it is now the turn of blue gas flame from the gas cooker.