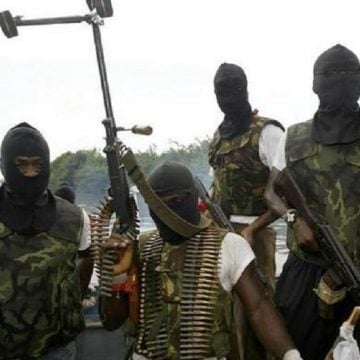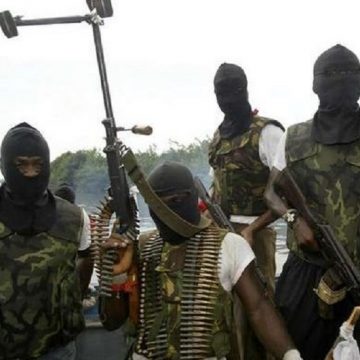 A fresh militant group, the New Delta Avengers (NDA) has emerged in Delta State.
The group, made up of former militants reportedly from Ndokwa, Ijaw, Isoko, Itsekiri and Urhobo, accused Governor Ifeanyi Okowa of developing his Ika axis at the expense of the oil and gas host communities.
It vowed to resume hostilities against oil and gas facilities on June 7, and also advised oil multinationals to quit the state latest midnight of June 30 or face dire consequences.
"We will do this through bloody attacks, crippling of oil industry in the state.
This campaign shall be bloody, destructive and vengeful against the enemies of our people," the group vowed.
Spokesperson of NDA, one Cpl Oleum Bellum, in a lengthy statement widely and electronically circulated among media correspondents in the state on Wednesday, said his group would flush out oil and gas companies from the state under "Operation Cripple Oil and Gas Production."
"We have agreed to resume attacks on oil facilities, resurrect the spirit of insurgency and to make a demand for a better deal for our people, and by extension our beloved Delta state," the statement read in part.
The group, which gave its motto as Death to traitors, betrayers, said Okowa should be held responsible for their onslaught on economic assets in the state.
"We watched the activities, policies of Governor Ifeanyi Okowa's administration these past two years and we have found that like the biblical Pharaoh, only extraordinary actions can soften his devilish and hardened heart towards the oil producing areas of the state.
"While developments are going on in rivers and other states, oil communities in Delta have been stagnant.
"As a result, we have decided to take up arms and return to the essence of our agitation for the development of oil producing communities in the state.
"Like a leopard, Okowa is averse to changing his spot and he has amply demonstrated that his interests and governance mechanism in the state are only for his Ika and Agbor people.
"In his true spirit of tribalism and nepotism, he has carried out these tendencies with unbraided passion to the detriment of our communities that produce the bulk of the state's resources that he is deploying to develop upland northern communities that do not produce or feel the impact of oil productions.
"Okowa set up State Capital Territory Development Commission and budgeted huge funds for the purpose of developing Asaba and any part of Ika nation that he sees fit.
"Then he has gone ahead silently developing Agbor, his hometown and others in the area, while our leaders from the Ndokwa, Ijaw, Isoko, Itsekiri and Urhobo ethnic groups have watched with surprising lack of interest and show of acquiescing silence," the group alleged.
NDA, in the statement, further accused the governor of imposing stooges at the helms of affairs of the Delta State Oil Producing Areas Development Commission (DESOPADEC) to carry out his whims and caprices at the detriment of the oil producing communities.
The group called on the Federal Government (FG) to direct the Economic and Financial Crimes Commission, (EFCC) to commence investigation into the allocation of funds to the commission "in order to ascertain if the allocation commensurate with 50 per cent of the 13 per cent Derivation."
The group also called on Governor Okowa to convene a meeting of "all stakeholders and leaders of all oil and gas producing communities in the state, excluding the impostors and jobbers who have mortgaged our futures."
Meanwhile, Chief Press Secretary to Governor Okowa, Mr Charles Aniagwu, in his reactions to the allegations levelled against the governor said they nothing but spurious allegations.
According to him, "For anybody to accuse the governor of being nepotistic in either projects distribution or appointments, nothing can be farther from the truth.
"The governor has tried as much as possible to carry everybody across the length and breadth of the 25 local government areas along both in the distribution of projects, awarding of contracts and in the appointment of individuals to positions.
"Secondly, a peaceful Delta is the benefit of every Deltan, so anybody who is threatening to break pipelines because he wants to punish Governor Okowa is not being patriotic because we have pleaded with our brothers and sisters in the creeks that we needed a peaceful Delta for us to be able to bring about development to the length and the breadth of the state.
"Even at a time when there is recession and when there are very low revenue accruals on account of the hostilities witnessed in 2016, the governor has been able to do so much, so you can imagine if we are now able to generate a reasonable amount of resources from the creeks, you will discover that it will be better for all of us.
"As I talk to you now we are just returning from projects inspections and commissioning. We started from the Isoko nation, we have had cause to go Sapele and Okpe and Oghara.
"We have also been to Aniocha North and South as well as Oshimili North and South. These are places located in the three senatorial districts. Our desire is to go to through the 25 council areas because we can pride ourselves with projects in these 25 council areas.
"On the issue of DESOPADEC, you cannot find a healthy tooth in a rotten mouth, if we say there's recession, DESOPADEC cannot be exempted from recession. The commission is operating given the times we are in."