Building demolition: Ajimobi, Ayefele meet in govt house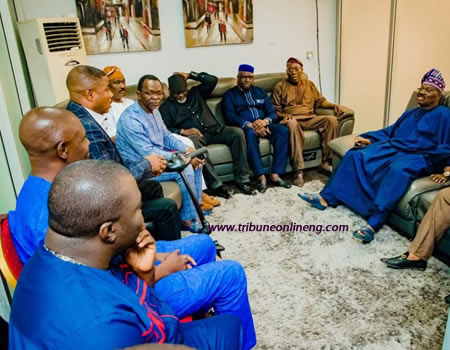 Towards resolving the crisis created by the demolition of the Music House housing Fresh F.M radio by the Oyo State government, the chairman of the radio station, Dr Yinka Ayefele and Governor Abiola Ajimobi, on Thursday, met at the Agodi Government House.
At the two-level peace meeting, Tribune Online gathered, Ayefele said, he had tried severally to reach the governor to no avail for a long time to deliberate on the issue.
He attributed health challenges and other bureaucrasies to his inability to meet the governor before the eventual partial demolition of his complex.
Governor Ajimobi, it was said, stressed that the partial demolition move, asides the eventual contravention of approved building plan, was occasioned by the petition by the Lagelu estate residents association who claimed that the building had become a serious traffic impediment, causing grave motor accidents, after which the various inspections and notices sent in ample time.
He added that the extensions by Ayefele had contravened the official building plan, but no moves were made by Ayefele or his team to reply the government.
"The decision by government was not solely mine. The state exco agreed to it and I had planned to make my intervention on Monday before learning about the Sunday demolition.
"Going by the building setback law, the whole building should have gone down but only the fence and parts of entrance was taken. We hope lessons are learnt from this because the people surrounding Ayefele pushed emotions on social media by attacking government.
"The laws of the land cannot be adjusted for anyone. Even my in-law, Bashorun Kola Daisi, lost some parts of his buildings during some of the various constructions the state embarked upon in the state. It has happened to many people around Bashorun road, also University of Ibadan and University College Hospital.
"So why should we allow sentiments take over instead of actually seeking redress within the armbits of the law. The matter is not personal but in the best interest of all stakeholders. Ayefele is a good man but the people around him are using sentiments instead of common sense. I have nothing against Ayefele. He is my brother."
The governor requested that building officials from both parties meet immediately to resolve the crisis.
With the governor and Ayefele at the meeting were the Information Commissioner, Toye Arulogun; KPMG senior partner, Tegbe; the Director, Corporate Affairs of Yinka Ayefele Nigeria Limited, Mr David Ajiboye; anchor of Fresh F.M's Political Circuit, Mr Isaac Brown, and others.