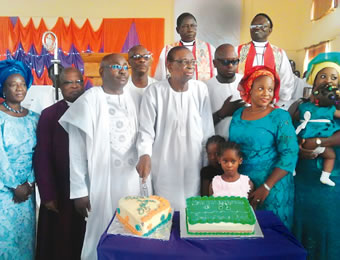 A former National Chairman of Alliance for Democracy (AD), Senator Mojisoluwa Akinfenwa, is dead.
An indigene of Erin Ijesa in Osun State, Akinfenwa, aged 89, died in his Ibadan home, on Thursday.
Confirming the death of Akinfenwa to Nigerian Tribune, a former AD chairman in Osun State, Hon Olapade Fakunle, said, the former AD national leader enjoyed good health till he breathed his last.
According to him, "Senator Akinfenwa left his Osun home on Monday, but only complained of having malaria symptoms on his way, and as he arrived in Ibadan, he went to his doctor, who asked him to rest after medication.
Fakunle said it wasn't as if he was bedridden, rather, he said he had enjoyed good health all through to his old age.
"To us, his complaint wasn't seen as anything serious as he was not used to falling sick, once he treats malaria, he gets back on his feet.
"But, sadly, while he was observing his bed rest at home, and we expected him to be back, he died in his home, on Thursday."
Fakunle, also a former national publicity secretary of AD, described Akinfenwa as "a great leader, who lived an exemplary life as a father and politician."
ALSO READ: Akinfenwa calls for justice on Ife killings
"He was a founding member of Alliance for Democracy (AD), he joined no other political party being a committed follower of Chief Obafemi Awolowo, he was a principled man and remained so till his death. His kind of leader is rare, we will surely miss him," Fakunle said.
He was survived by his children and other family members.
Senator Akinfenwa was, in 1999, elected a Senator representing Osun East constituency of Osun State, at the Senate, on the Alliance for Democracy (AD) platform, and became the minority leader in the Senate.
Prior to this period, he was a former Commissioner for Education, under the administration of late Bola Ige as the governor of old Oyo State.
ALSO READ: AD South West condemns attack on Akinfenwa
Also, Akinfenwa, a devout Christian, was the Balogun of Christ Anglican Church, Erin Ijesa, and also Baba Ijo of Anglican Church, Iloro Ijesa, both in Osun State.
His remains had been deposited at Wesley Hospital and burial plans will be announced later.