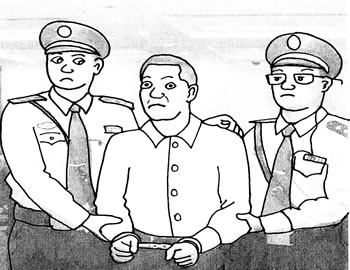 THE 29-year-old man arrested last week for hijacking a car with a baby inside in Ilorin, Kwara State, has asked his victim, Mrs Omotoyosi Adewoye, to forgive him, saying that starvation drove him to the crime.
Speaking while being paraded by the police in Ilorin, on Wednesday, the suspect, identified as Oladapo Olawoye, a graduate of Building Technology from the Kwara State Polytechnic, said he had been a member of the woman's church, Living Faith Church, Offa Garage branch, for years but only decided to rob her  to survive.
He confirmed that he had flagged down Adewoye at the church for a ride to the Gaa-Akanbi area of the Ilorin metropolis.
"It was desperation. I had not eaten for four days. After the woman jumped out of the car, I had no option but to drive off, although my intention was to snatch her bag.
"My intention was to snatch the bag and find some money but when I pulled out the knife and the woman rushed out, she started screaming and I had to drive off the car. It was while I was going that I noticed the baby at the back and that put me in a greater confusion. I didn't know what to do. I noticed there were policemen on the road at about every three kilometres and that was why I decided to drop the baby behind someone's house at Akerebiata.
"I then drove the car to Asa Dam Road and after I had emptied the purse, which was my original intention, I wanted to go and drop the car somewhere they could find it probably the next day. But as I looked out, the house was surrounded by SARS men and they arrested me," Olawoye said.
He claimed that the incident was his first attempt at crime and expressed regret for the action. He said he was sure the law would take its course on his case. "I know the law will take its course on the matter but the only thing I want now is for that woman to forgive me," he said.
The spokesman of the state police command, Ajayi Okasanmi, said the suspect would soon be charged to court for armed robbery.
He also announced the arrest of seven suspected cult members on September 9, 2017 in Ilorin and Offa following intelligence report.
According to him, on the same day, the command recovered a truck laden with 30,000 litres of petrol after it was snatched at gunpoint at about 9.00 p.m. on the Eyenkorin-Ogbomosho Expressway.