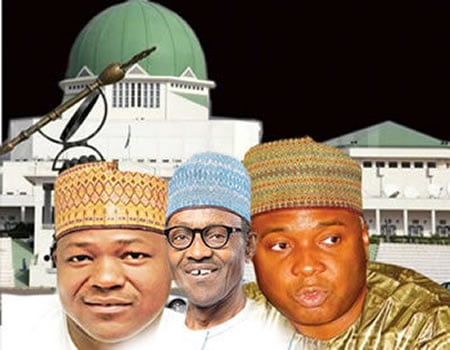 FOLLOWING lingering upheaval pitching the Presidency with the leadership of the Senate, the Chairman of Ohaneze Ndigbo, Anambra State chapter, Chief Damian Okeke, has cautioned against any attempt by the National Assembly to plot impeachment of President Mohammadu Buhari.
Chief Okeke who was fielding questions from Newsmen in Awka, argued that aggrieved legislators scheming to remove the president through impeachment proceeding should rather resort to the use of their permanent voter's card to actualize their ambition.
"If you want democracy to grow in this country, I can never support impeachment. It will cause more problem than solution. If you want a stable country, forget about impeachment, if you want the President to be removed, go with your PVC. It is more democratically advised" he said.
ALSO READ: Court sentences two to death for killing priest in Benue
The Ohaneze Ndigbo Boss further reasoned that any plot to impeach the President could plunge the country into a deeper political crisis which could lead to anarchy.
According to him,"When you go for impeachment, people will fight back like a wounded lion and again innocent souls will be lost. I bought what former President Jonathan said that his ambition is not worth the blood of Nigerians. I think impeachment is dangerous for Nigeria now"
He, therefore, enjoined both the Presidency and National Assembly to sheath their sword and concentrate on delivery of democratic dividends, good governance and laws that would have a direct bearing on the lives of the people.
Commenting on the spate of defections from one party to the other, he urged the masses not to be deceived by the antics of such politicians who junket from one party to the other for their selfish ends.
He added that such self-interest seeking politicians who were former members of PDP had refused to give youths opportunity in the polity by recycling themselves in various political offices.