Forget bricks, you can now live in a plastic house
MUHAMMAD SABIU reports that somewhere in Abuja, the first plastic storey building in Nigeria is in the making, just as emphasis is now being shifted to the use of plastic bottles for general construction.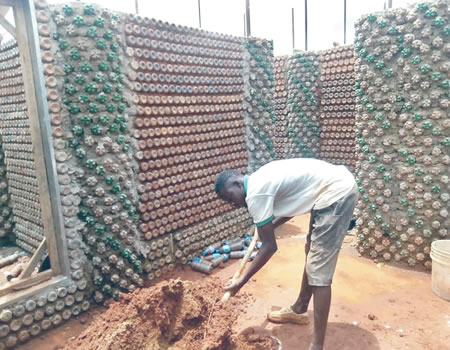 OF all the basic needs of man, shall the basic needs of man, shelter is one of the three most important and over time man has continued to look for ways of having not only a shelter that is both cheap and not complex to build.
Most buildings, especially residential buildings in urban centres of the world are made of bricks and cement, but have you ever heard of houses made of plastic bottles? Yes, plastic bottles. If you desire to live in one you could have it because it is affordable.
The first plastic house to be built in Nigeria was constructed in the Northern part of the country some years back in a village called Yelwa, situated along the busy Kaduna /Zaria highway by an engineer, Mr Yahaya Ahmed.
The experiment was said to have been so successful that it attracted interest from architects and other building professionals. The initial success spurred him to go ahead with the plan to build a bigger structure using the same materials – plastic bottles. If this particular project being done in Abuja becomes successful as it is expected to be, it will be the biggest plastic house to be constructed in not only Northern Nigeria, but in the whole of the country.
Speaking on the project, Ahmed, who is the Chief Executive Officer, Developmental Association for Renewable Energy in Nigeria, remarked that the idea behind it was to further explore the possibilities of having in no distant time, plastic houses that will dominate the country's architectural landscape.
"We discovered that plastic houses are cheaper, stronger and affordable because the raw materials which are plastic bottles are everywhere. We must take up the challenge," Ahmed said.
Findings by the Sunday Tribune gathered that over 1.5 million plastic bottles will be used for the construction of this latest house.
"Our efforts to reduce millions of plastic bottles that are causing serious health and environmental challenges are our greatest joy, in addition to providing jobs to our teeming unemployed youths," Ahmed stressed further.
According to him, many jobless Nigerian youths are currently in training on this new modern building technique.
"Hopefully these youths will become experts and some will be involved in clearing the huge number of plastic bottles lying around as waste all over our environment," he said, noting that every minute, millions of plastic bottles are being used and thrown away and this is causing serious environmental challenges.
In Africa today, he explained, there is no enough technology to recycle the millions of the plastic bottles and put them into use.
However, it is expected that with the new initiative, more energy will be channeled towards replicating the plastic houses all over the country as people begin to rely less on the use of the traditional bricks and cement for their construction needs.
The environment expert believes that though materials for brick buildings may get costlier, the raw material for plastic houses will always be available and that is one good thing about the initiative.
"These plastic bottles are found on sidewalks, in parks, front yards, rivers, local streams and refuse dump sites all around the area where construction is taking place," he explained while speaking on the availability of raw materials, pointing out that one other advantage of using plastic bottles for building is that they are stronger than normal bricks.
"The plastic house can last for more than 300 years without shaking if constructed properly. It is fireproof, bulletproof and earthquake-resistant and could adapt to all kinds of climate changes and desertification," he explained further, adding that significantly, plastics would soon become another option for building construction.
According to him, series of researches have shown that it can be used for fencing, bridges, walkways and building of jetties.
Sunday Tribune investigation, however, revealed that apart from lowering the cost of building houses, the plastic alternative also offers solutions to rot and vandalism. In other words, building a house with plastic protects it against decay and rot unlike wood.
But despite the huge advantages plastic offers, its process, according to findings, its long and tedious and can be frustrating, as the bottles have to first of all be filled with sand and this must engage many hands.
"Undertaking such task, however, needs some elementary preparations, namely: getting enough bottles and finding good or trained manpower to fill the bottles, not anyhow, but as it should be and that needs the guidance of professionals.
"I must confess to you that plastic bottles and plastic bags are the most prevalent forms of pollution found on our beaches and in our oceans and trash dump areas. There is the need to find ways of recycling them, and that is why we choose to recycle them through construction of plastic houses in order to save the environment and the people living in our communities," Ahmed said.
An architect and lecturer with Kaduna Polytechnic, Kaduna State, Muhammad Sani, who is also part of the project, declared that apart from the current project, there is also a proposal to build the first plastic storey building in Africa.
In an interview with Sunday Tribune, Sani disclosed that the project managers working on the current plastic house are hoping that in six months construction will be completed.
"We want to design new houses that support the global fight against climate change and environmental degradation. We want to see how young Nigerians can learn how to construct this type of building using plastic bottles," he said.
Also speaking about the new initiative, Mr Piman Hoffman, Assistant Director, African Climate Reporters while expressing his happiness over the effort put in by Nigerian experts to construct the biggest plastic house in the North, said there is the need to bring entrepreneurs into the project.
He noted that the huge amount of plastic materials that end up in the seas, causing environmental damage to marine animals including fish could be greatly reduced if many wealthy individuals and organisations saw the wisdom in investing in the project.
He noted that the benefits of recycling plastics are numerous for the environment.
"Although the use of those reused bottles and other materials may not always be obvious, they find their ways into many of the products and building materials that we rely on for everything from food to furniture," Sani noted. Plastic, as Sunday Tribune learnt, are now being used to make building materials like interlocking blocks for flooring and pipes, among others.
However, as desirable and laudable the plastic house project is, the process as earlier underscored is tedious and capital intensive. It requires the deployment of heavy machines for the recycling of plastic bottles. At the same time, many hands must be engaged for the collection of plastic bottles for construction to take off on a sound footing, a process that can only be realised with adequate funding and/or investment from entrepreneurs.
Once this was done, it will open a new vista for prospective builders to take up yet another opportunity in the construction business which has the potentials of employing a large number of people and permanently take them off the labour market.