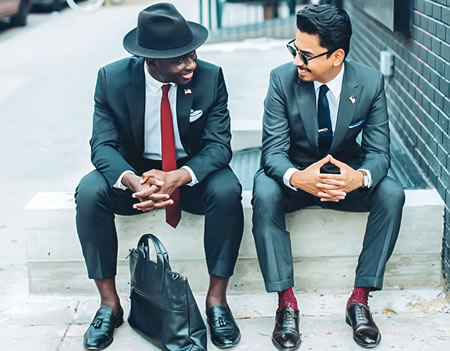 As you might already know, accessories are what sets you and your style apart from other men. If you take two guys with the exact same, well-fitted stylish clothes, both look good. But if the other one knows how to accessorise, he will look spectacular.
The accessory selection nowadays is so wide, that the options for styling up an outfit are limitless. That's the beauty of it; with all the variety in the world, it is easy to combine and create the perfect and exclusive set for you. That's how you make your style unique since the odds are that no-one is wearing the exact same combo of accessories.
All the accessories might not suit everyone's style, but some accessories will make you look instantly more attractive. And who wouldn't want to look more attractive! Now we are going to go over five accessories that will make you look better instantly.
Watches
The first accessory that makes you instantly more attractive is a good quality watch. Why would you need a watch for checking the time when you have your smartphone always within the reach of your hand? Well, as the saying goes – boys look at their smart phones to check time – men look at their watch.
When you wear a watch – it's less likely you will fall back on your phone as a distraction. Often, checking the phone for time results in a rabbit-trail of activities including checking every messenger app, email, and Facebook. A quick glance towards your wrist is a much classier way to keep tabs on time during a date or a meeting. Not to mention how rude it would seem to your companions if you pulled out your phone during a conversation. On other occasions where it's advisable to leave the phone concealed – like the beach, a funeral, a wedding, a watch is a much more subtle and convenient way to check time.
In addition to helping wearers stick to their schedules, wristwatches make it easier for them to display their sense of style. They are a form of self-expression – reflecting the wearer's lifestyle. Watches can communicate a lot about the wearer's personality. Today there's so much variety in styles and designs of wristwatches, that everyone will find a timepiece to their liking. What's so great about watches, is that everyone can rock one regardless of their style. Wearing a watch is a great way to add interest to an outfit.
Hats
Accessory number four is a cool hat. If you step out of your comfort zone and try rocking a hat you are going to be dazzled and utterly amazed at the response you get. Not a lot of people have the confidence to pull off a hat. If you do, which you should, that means you rock! Whether you're wearing a classic baseball cap or a dapper fedora, hats are the perfect topper for any outfit.
Hats tend to be more of a statement piece than a subtle accessory. Maybe you want to instantly add a whole dose of personality to any outfit? You wear a hat to keep your head warm on a chilly day? Or maybe you're wearing a hat to cover a bad hair day? Either way, hats are a great way to take your style game from 0 to 100.
When wearing any hat, remember to be a gentleman. When in a home, restaurant, or part of a larger building that is not a hallway or lobby, take your hat off. When the national anthem of any country is being played, sung, or professionally hummed, take your hat off.
Bracelets
If clothing is cake, jewelry is icing. A trend that has been hot for a while now and for a good reason: men's bracelets! Wearing bracelets is something that every guy doesn't do – but everyone who's woke on today's fashion trends does. Stacking bracelets is the name of the game when it comes to men's accessories. Today's trend is to wear more than one bracelet on one's wrist and combine different materials and styles to create a mix that fits perfectly and uniquely to your style.
While some men may be reluctant to wear jewelry, some men do it very well and know that accessories are what makes the difference between an outfit being "nice" or "fantastic". Relaxed, laidback and playful, bracelets are the type of jewelry that every man can wear without feeling overdone or out of place. Be it casual or dressy occasions, different bracelets can lend distinction – allowing you to stand out in the simplest of ways.
Suit Accessories
Even if you don't wear suits on a daily basis, there are important occasions in every man's life when a suit is the only appropriate choice of outfit. And when those moments come, you want to be ready to look top notch. There is a huge difference in whether your suit is accessorised or not. Even if you have invested in a quality, well-fitting suit (which you should), it can't be at its best if you've totally left out all the accessories.
Double Pocket Squares: The classical choice is to go with a simple tie and pocket square. Be ready to be playful with the color and pattern combinations. Complementary colors look great when paired up. Try for example purple tie and green pocket square, or blue tie and orange pocket square. If you are not comfortable with wearing bright colors as an outfit detail, you can choose neutral colors too and still keep the outfit classy and defined. Just make sure that the tie and pocket square are not the same exact color and pattern. If you want to be extra fancy, try wearing double pocket squares. Pair one with a neutral color to one with a brighter color or interesting pattern, and you are on top of the pocket square game!
If you want to stand out in a crowd, choose a bow tie instead of a tie. There are just as many different colors and patterns and materials for bow ties as there is for ties. You are guaranteed get more compliments with an eye-catching bow tie than a regular tie!
Sunglasses
There is one accessory that has the ability, the power, to transform you handsome, take you from a five-and-a-half to like an eight by a blink of an eye. What is it? It's a perfectly fitting pair of glasses! If you are wearing glasses, invest in a stylish pair that frames your face. The difference between well and badly fitting glasses is huge. If you are not wearing glasses, you can get non-prescription glasses to spark up your look. If you think that no glasses look good on you, you just haven't found the right pair – yet. Check out our guide for finding perfect sun glasses!
In addition to clear glasses, there are obviously sunglasses. The perfect combination of protecting your eyes and looking awesome while doing so. Plus, wearing sunglasses will make you squint less in bright sunlight, which prevents the wrinkles around your eyes from appearing. If you are new to wearing sunglasses, you might want to start with a classic, a pair of neutral colors. If you are already comfortable with wearing sunglasses and are looking for a stylish pair that really catches attention and takes your look to a whole new dimension, try brighter colors and play with different materials such as mirror lenses.
So these were the five top accessories, that make a man instantly more attractive and stylish. If you haven't used accessories before, we encourage you to step out of your comfort zone and try some. You'd be amazed how easily the look and feel of your outfit can be upgraded!