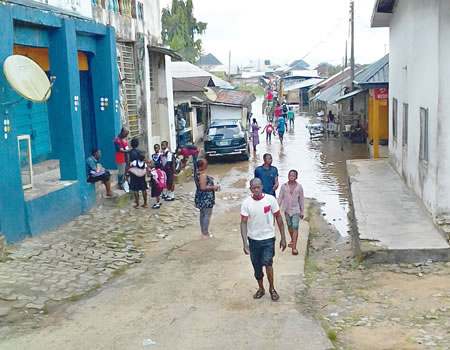 When the 2012 flood rendered many residents living in coastal communities in Bayelsa State homeless, one of the tragic cases that was recorded then was that of one Mr. Ibu who died of snakebite in Otuokpoti community in Ogbia Local Government Area.
Before Ibu's death, the state government had announced on the state owned radio and television station, urging those living in communities submerged by the flood to move to higher ground or government- designated Internally Displaced Persons (IDPs) camps for safety. Mr Ibu was one of many Bayelsans who didn't take that announcement seriously.
On that fateful day, Ibu and some of his community folks were drinking local gin on a wooden platform constructed to keep them above the water when they saw a cobra floating in search of shelter. On sighting the snake, the brave Ibu jumped into the water with a stick and struck the snake several times with the intention to kill it. The snake stopped struggling. Convinced it was dead, Ibu held it at the tail in an attempt to get it out of the water. The snake struck. Three days after, Ibu died at the Federal Medical Center (FMC) of snakebite to his face.
Today, as the current flood which has left about three quarter of the state submerged begins to raise fears that people may soon experience the presence of reptiles around human settlements, the state government has sent out another warning, urging flood victims to move to higher ground and IDP camps to avert any possible loss of life.
The state government did not stop at that; it has also directed the immediate closure of all schools in the state as a precautionary measure to avoid children being exposed to dangers that may lead to death.
The decision was said to have been reached on Sunday at the state executive council meeting presided over by the state governor. Seriake Dickson, who also set up a special committee to facilitate prompt and effective response to the flood emergency in the state.
Nigerian Tribune investigation revealed that public schools across the eight local government areas of the state have all shut down, but some private schools in some parts of the state have refused to obey the total shutdown order by government.
In spite of the dangers the flood poses to lives and properties, during a drive round town, children were seen in Amarata, Opolo, Okutukutu, Kpansia and Yenezue-gene areas of Yenagoa walking through submerged walkways and roads to get to their schools to study. This situation forced the state government to issue another statement, this time threatening to shut down any private school that refuses to adhere to the directive of the state government to shut down academic activities for three weeks when the flood water is expected to recede.
But to the surprise of government, the warning fell on deaf ears. To ensure full compliance, the state ministry of education has set up a special monitoring team to go into all the nooks and crannies of the state to forcefully close down schools that are still running academic sessions.
Speaking on the development, the chairman of the Bayelsa State Post-Primary Schools Board, Dr Asiam Ikuru, stated that  "during flood, snakes are usually found floating into houses and take shelter on roofs, nooks and crannies, under debris or other belongings where hiding is possible. In some cases, you find crocodiles around human settlements.
"So the intention of government to close schools is in the best interest of Bayelsans. No government would it back and watch its citizens put themselves in harm's way. Even though we don't have total control over private business owners, government will ensure that this directive is adhered to strictly."
Also speaking, the chairman of the Academic Staff Union of Secondary Schools (ASUSS), Peletiri Kenisuomen, said the decision of the government to close schools because of the flood is a welcome development, but he decried the fact the closure of schools would adversely affect the academic calendar of secondary schools in the state.
He said, "As a union, we think the position of government to close schools because of the flood was right considering that when flood comes, it comes with so many things. And when children are exposed to flood, they may contract sicknesses. In this case,  the government is right.
"But on the other hand, it is bad for us because our academic calendar will be affected. You know this is first term, we have 14 academic weeks to work with but with closure of schools, we will be forced to encroach into the academic calendar of next term. This means extra work for teachers next term because we will be required to rush our classes, with little or no rest.
"Government didn't prepare for the flood considering that we had this same experience in 2012. 2012 till now was enough time for government to have built schools on higher ground so that in a situation when another flood comes, children would have still been going to school.
"As we all know, not all schools are affected by the flood. So government should have relocated all the schools that were affected by the flood in 2012. But all the same, we still support the decision of the government."