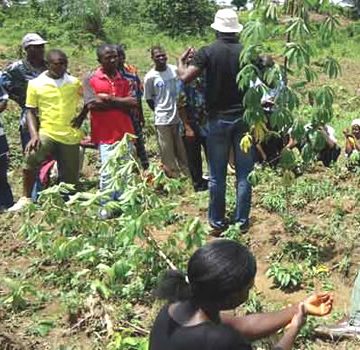 MINISTER of Finance, Kemi Adeosun, has said the country will benefit by signing up for the African Development Bank funded ENABLE (Empowering Novel Agri-Business-Led Employment) Youth  Programme.
Nigeria's participation in the programme will make the oil-rich country the third African country after Cameroon and Sudan to benefit from funds under the AfDB Feed Africa initiative.
The ENABLE youth programme is modelled after the International Institute of Tropical Agriculture (IITA) Youth Agripreneur (IYA) programme which has seen a lot of success.
The programme is expected to create business opportunities and decent employment for 1000 young women and men along priority agricultural value chains of various enterprises (aquaculture, crops farming, marketing, processing) per state, including Abuja, the Federal Capital Territory, according to the Director-General of IITA, Dr Nteranya Sanginga.
Mrs Adeosun said that she was impressed with the concept and the testimonials of the young agricultural entrepreneurs.
"We came here to assess a project (ENABLE Youth) being considered by the Federal Government. From what I have seen today, I am extremely impressed and inspired! We should work on how we can roll out this project nationally," the minister said during a visit to IITA in Ibadan recently.
Like several other African nations, Nigeria is caught in between rising youth employment and food insecurity. In 2012, Dr Sanginga initiated a youth in agriculture programme to serve as a model for African nations to emulate and prosper. Under the model, youths are trained, both in theory and practice, and mentored with a view to changing their mindsets towards agriculture. In the end, they key into startups in the agricultural value chains.
Dr Sanginga said the IYA model was a template that would help African countries tackle the challenge of unemployment on the continent and create wealth.