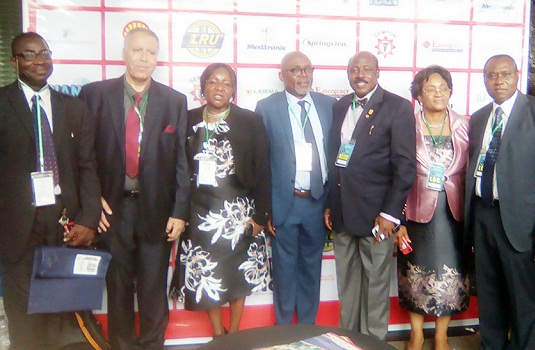 THE Minister of Health, Prof. Isaac Adewole said that the Emergency Management System (EMS) policy which was launched last February would reduce morbidity and mortality and ensure that there was prompt response to emergencies.
The minister made the assertion at the ongoing Second Annual General Meeting (AGM) of the Society of Emergency Care Practitioners (SEMPON) on Thursday in Lagos.
The News Agency of Nigeria (NAN) reports that the theme of the conference is, 'Emergency Medicine and Patient Safety: How Safe Are Our Emergency Departments?'
The minister, who was represented by Prof Lanre Adeyemo, Deputy Chairman, Medical Advisory Committee (DCMAC), Lagos University Teaching Hospital (LUTH),  said the policy would help coordinate and integrate EMS across Nigeria.
Other objectives of the policy include formulating, regulating and implementing guidelines to ensure prompt response to emergencies.
"The justification for the policy is that there has been a rise in morbidity and mortality due to several disasters and emergencies.
"Managing disasters is about proper coordination and we need to put a policy in place.
"The roles and responsibilities of the actors in emergency services are clearly stipulated, from the federal level to the state and at the local government levels," he said.
Also, Dr Jide Idris, the Lagos State Commissioner for Health said that preparedness for emergencies was crucial and there was need to ensure that there was a ready plan to curb outbreaks.
He noted that emergency responses weren't only needed for accidents but also for outbreaks of diseases.
Dr Olufemi Taiwo, who represented the Commissioner told NAN that the state had put structures in place to ensure prompt response to emergencies.
"We have the unit that links with disease surveillance officials in case there's an outbreak.
"Also we have the general hospitals that manage and transfer patients to the secondary facilities, if need be to the tertiary institutions.
"We have the isolation ward at the Mainland General Hospital for the infectious diseases like Lassa Fever and Ebola.
"Other measures include the ambulance services, with manpower to manage and transfer the emergency cases."
ALSO READ: Why we're investigating alleged fictitious multi-billion contract in NIMASA ―Dogara
Idris called on communities to cooperate with government agencies by allowing them access to people affected by emergencies.
Also, Prof Abdelouahab Bellou, of Therapeutics and Emergency Medicine, Harvard Medical School, said medicine was susceptible to emergencies because of the tendency to hide errors.
Bellou said: "If you blame people, they will not tell you when there are errors. Then you will not be able to analyse them to see how they can be avoided.
"Suppress the urge to blame people, rather work with the system in place."
The professor urged medical practitioners to ensure that their facilities are above average, which could be achieved by ensuring personnel are well skilled.
Also, Dr Efunbo Dosekun, Vice Chairman, SEMPON told NAN that training of healthcare personnel was very important in ensuring adequate emergency response.
Dosekun said another way of reducing emergencies was promoting safety measures that prevent them.
"We will continue to sensitise our doctors to go back and create a sustainable safety drive that will ensure that our hospitals are safer," she said.
Dr Bode Falase, a Cardiothoracic Surgeon at the Lagos State University Teaching Hospital (LASUTH) said there was need for more awareness on the challenges of emergency healthcare management.
He lauded the initiative of the organisers of the event and urged governments, private and nongovernmental organisations to collaborate in proffering solutions.