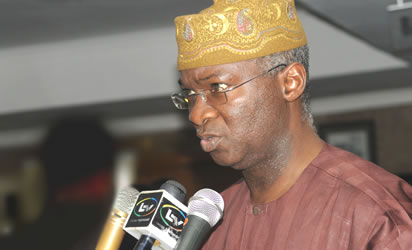 THE Federal Government has threatened to withdraw and currently suspended N120 billion Bonny-Bodo road project over lack of cooperation from host Niger Delta communities.
The Minister of Power, Works and Housing, Babatunde Fashola, issued the warning during a meeting with prominent traditional rulers, Julius Berger, the Nigeria Liquefied Natural Gas (NLNG) and Council of Elders from Ataba, Gokana among others at the ministry, on Thursday in Abuja.
Some of the leaders are HRM Festus Bagia represented by Chairman Gokana Council Chief, Mene Michael Tekure; Chairman Jumbo Group of Houses, Prof. Jasper Jumbo; Clan Head of Ataba, Sir. Benson Egwemre and others.
Fashola, who had earlier persuaded the aggrieved community leaders to unite and relinquish their differences for the benefit of the people and future generation, said he might be forced to petition the President over the issue and withdraw the N60 billion contracting sum for other federal projects in another part of the country.
He explained that the Bonny-Bodo road project is such that has enjoyed largest funding, where the NLNG is providing N60 billion with additional N60 billion counterpart from the federal government, adding that the contractor had received mobilisation yet the project is being suspended due to lack of cooperation from the benefitting communities.
Worried over unwavering position of the elders, who insisted that the project will not be implemented except they are 'carried along' and an additional route is constructed in Ataba; the Minister noted that "we might tell NLNG to take its money back", stressing that the community leaders should take ownership of the project and make it their responsibility to promote peace in the area.
His words: "You must work this peace. Today is Thursday since you said you know the permanent secretary, I will leave you with him. All I want is a peace accord and an invitation to Julius Berger, not later than Wednesday 28 otherwise I will write a report to Mr President that it doesn't seem that this project is ready to go but we can move the money to another project."
"Whether it is Ataba, Ogoni or Gokana own this project. The people you call militants are not a spirit. They take their cue from how you react. You are leaders there. If you go back home today and say it is over, the militants too will calm down. They don't do anything without alerting the leaders.
"For us, we can't keep the money down. The contractor has received his money but now he can't work. There are projects where contractors are waiting for money, they don't have it. That is a contradiction that will not last long.
"So I will leave you. You know where we stand. We have an idea of where you stand. For me, it is a compromise that owes the project. NLNG will not be there forever. It took time to even beg them to release this money. So if you don't take ownership of the project and put it to use, we might as well tell them, take your money back the project is not ready," Fashola said.
He stated further that, "when there is peace, we will come back but we need to have a position before the end of this week. There must be a MoU of compromise, assuring us that there will be peace in that place, agreed to by you, give it to us and invite the contractor to come back.
"Suggest to the contractor anything you want him to do. You can't take-over how they organise their business. They are not bringing imported labour into your land. If your people want to supply diesel and makes the case for them, let them chose but don't impose on them.
They must be able to screen those they will admit working with them and those who don't meet that standard must seat….."
However, he issued a week deadline for the community leaders to agree and meet with the contractor but the group pleaded for an extra week to re-converge, conclude and submit the document by March 7.
"You must work the peace. Nobody can impose peace on you and sometimes, compromise is not foolishness, it is strength," Fashola said.
He urged the head of the delegation Chief Jumbo to support the project with his experience and help make it a reality.
Earlier, representative of Julius Berger, Mr Kai-Uwe Koehler assured speedy completion of the project as long as the corridor is secured.
ALSO READ: False assets declaration: Supreme Court adjourns Saraki's appeal indefinitely
He explained that based on the scope of the contract, the organisation will do its best to deliver a good job.
"Let us state this very clearly, we will not accept any threat to our employees or personnel," he warned.
The Chairman of NLNG, Osobonye LongJohn, in his remarks appealed to the aggrieved elders stressing that the project would boost social-economic wellbeing of the people.
According to him, as an indigene of Niger Delta, the project will benefit both NLNG and largely the host communities.