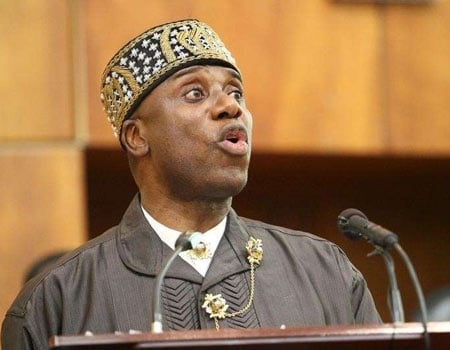 The Federal Government is seeking to connect with neighbouring countries by rail as a way of increasing capacity in the movement of freight across West Africa nations in order to enhance inter-country trade thereby boosting Nigerian export growth.
Speaking at a seminar organised by the Abuja Transport and Aviation Correspondent Association (ATACA) on Wednesday in Abuja, the Minister of Transportation, Rotimi Amaechi who was represented by the Director of Information, Yetude Shoneke reaffirmed the commitment of the government to build a robust Transportation Industry in Nigeria.
He revealed that the National Council of Transportation (NCT) meeting that was held in Sokoto recently concluded by setting up two Inter-Ministerial Committee to ensure the approval of the Federal Executive Council (FEC) and National Economic Council (NEC) regarding the National Transport Policy formulated by the Council to coordinate and drive the growth of the transport sector.
Amaechi stated that "the second Committee is to handle and resolve the face-off between the Federal Road Safety Commission (FRSC) and the State Governments over the role and management of the Unified National Drivers License Scheme and other related matters."
He said the government is working "assiduous to implement the 25 years Railways Master Plan which is targeted at making provision for some international linkages by rail to our neighbouring nations, thus leveraging the ECOWAS arrangement and other Continental protocols."
Also speaking, the Minister of State for Aviation, Hadi Sirika who was also represented by the Director of General of Nigerian Meteorological Agency (NIMET) noted that the Aviation sector in the country has done relatively well.
He said recent policies in the transport industry will ease the processes of doing business in the country and create jobs for Nigerians.
The Managing Director of Nigerian Port Authority (NPA), Hadiza Usman who was represented by Edward Kabiru lamented the many challenges in the processes of doing business at Nigerian ports.
She said the country's ports terminals have experienced failed concession leading to "non-enforcement of default penalties on both parties for non-performance of contractual obligations. Some areas Commissioned were not delivered due to various reasons resulting in a deduction from lease fees because their projections are based on total area and the inability of NPA to fulfil its dredging obligation due to design depth."
"In the light of the above, the present NPA administration has prioritised the need to overcome the hurdles by initiating plans to review all concession and joint venture agreements which will ensure a seamless collaboration for a sustained development of the Maritime industry" Usman concluded.