FG proposes $10bn for reconstruction of Enugu Airport ― Minister
• Appoints Transaction Advisers for proposed concession of 4 international airports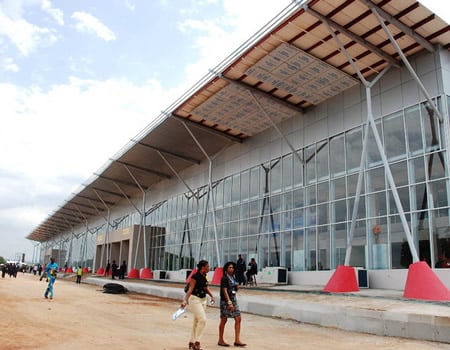 Minister of Aviation, Senator Hardi Sirika is seeking President Muhammadu Buhari's approval of the sum of $10 billion for the reconstruction of the runways of Akanu Ibiam International Airport, Enugu State.
The Minister, who disclosed this during an interactive meeting with members of the House of Representatives Committee on Aviation chaired by Hon Nnolim Nnaji, disclosed that Nigeria currently has bilateral air service agreements (BASAs) with 89 countries out of which 15 countries have expressed readiness to sign similar agreements while 13 countries are on the threshold of re-negotiation.
Sirika further hinted that they had negotiated with the contractor and made payment of the initial bill of quantities for the contract sum and added that the Presidential approval is required to complete the repairs.
The Minister added that a consortium of firms have been appointed as Transaction Advisers for various projects, including: establishment of National Carrier, concession of foe airports, establishment of an aviation leasing company, establishment of maintenance, repairs and overhaul, development of an aerotropolis (aviation city) and development of cargo/agro-allied terminals in line with the Public Procurement Act 2007.
The Minister also unveiled plans for the development of agro-allied cargo terminals considering the country's 800 million hectares of arable land and 276 million cubic meters of surface water.
While speaking on the overall contributions of the Aviation sector to Nigeria's GDP, he disclosed that in 2016 airports handled 15.2 million passengers, ferried over 195,230 metric tones of cargo and 7,373.0 metric tonnes of mails.
Also, according to the International Air Transport Association (IATA), air transport in Nigeria supports more than 650,000 jobs including tourism-related employment, while contributing $8.2 billion to the country's GDP annually.
In his remarks, Chairman of the House Committee on Aviation, Hon. Nnolim Nnaji and other lawmakers expressed grave concerns over non-commencement of the rehabilitation work at the Akanu Ibiam International Airport, Enugu State.
He said that the Aviation is the gateway to the nation's economy and that Enugu Int'l airport is strategic for it is the gateway to the southeast region and other parts of the country.
In a related development, the Minister of Works and Housing, Mr Babatunde Fashola who appeared before the House Committee on Works, lamented that roads infrastructure is being threatened by various bottlenecks, however, affirmed that progress is being made in the area of roads construction across the country.
According to him, no part of Nigeria is being left out as there is no state in the country where there is no completed or ongoing road project.
Fashola lamented that, as at now, the ministry has N306 billion in unpaid certificates to contractors while the proposed money appropriated for the ministry in 2020 is a little over half of what is being owed contractors.
He further noted that the Ministry has focused on 47 priority roads that have greater economic value to the country.