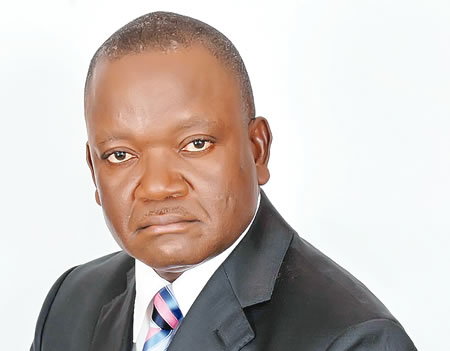 Benue State governor, Samuel Ortom, spoke with newsmen on the New Year attacks and killings on account of the anti-open grazing law and the consequent protests. He said those who sponsored the attacks and killings live in Abuja and must be arrested and prosecuted. JOHNSON BABAJIDE who was there brings excerpts:
The killings in some parts of Benue State on the New Year Day were followed by violent protests. What is the situation now sir?
What started as a very peaceful demonstration from the students of Benue State turned into a rowdy situation, but I understand, I can feel the anger of the people. Even me as a leader, I had to control myself when I saw the level of damage that was done against my people. But in situations like this, the simple message I was trying to pass to the youths and the rest of Benue people is to remain calm.
This government is proactive and will continue to be proactive in ensuring the security of lives and property. The promulgation of open grazing law was an initiative of the Benue people and it is very popular among the people. For us, that is the only way we can ensure peace for farmers and herdsmen to coexist and live together.
Ranching is the global best practice; there is no other alternative and, even up till today, I know that there is no other alternative. I want to appeal to my people to remain calm. In situations like this you cannot think of reprisal or anger to be a solution to the problem that has been caused. As a law-abiding people, let us continue to be law-abiding and ensure that the perpetrators are brought to book. I have reported this to President Muhammadu Buhari; I have reported to the security agencies and they are working towards it. I have repeated my call that the leadership of the Miyetti Allah Kautal Hore, should be arrested. I had earlier given this notice to the security agencies and reported these people to the presidency because they came out boldly and said they were going to resist the law and they will do everything possible to sabotage what we are doing.
How far has government gone to calm frayed nerves?
Since when we got wind of this incident, we did not waste time. I had to break from our Security Council meeting and I personally visited two scenes of the incident in Guma and Logo local government areas. I was to complete the visit to the remaining two scenes, but unfortunately time has caught up with me. But we have already, with the Security Council, done the deployment of security agents to all the places and I am appealing to the people not to begin to run away from their villages until we are able to handle this.
The splinter group of Miyetti Alla Kautal Hore had in the past threatened to frustrate the anti-open grazing law…
I think the right thing to do is for the Federal Government to wake up to its responsibility and arrest the leadership of Miyetti Allah Kautal Hore who did not hide its feelings and came out and said this. If the Federal Government does not do this, they are telling us that we are not part of Nigeria and it will be unfortunate because it is the responsibility of the Federal Government to provide security for us. The security apparatus of this country belongs to the Federal Government and they have the capacity.
This people are known, I have reported them to the president and, currently, they have taken us to court. They issued several press statements and threats against us and their threats have become reality. They are living in Abuja with the Federal Government, so why can't the Federal Government do something?
If they are not arrested, they are throwing us into a state of anarchy which is wrong. We have done everything to ensure that peace prevails here. I want to assure all people living in Benue State that we will continue to protect them, provide security for lives and property. But let us restrain our anger, although it is painful. I understand and feel the pains of Benue people; I feel the pains of Benue youths; I feel the pains of mothers; I feel the pains of fathers whose relations have been murdered in cold blood, but I want to assure them that justice will take its course. This law remains a law in Benue State and there is no going back on it. The perpetrators must be brought to book and I can assure you that Benue will be well.
There is a debate going on about community policing and it seems that you are handicapped and you are not in a position to issue a command for an immediate action. Does this make you see the need for state police in the country?
Concerning the issue of state police, I remain committed to democratic principles. It is not for me to decide whether we should have state police or not but if the people, the stakeholders of Benue State, agree, I will have no objection to having state police. But this is something that has to be subjected to a debate and we get the inputs of all stakeholders so that we weigh the various options. The federal and state police, what are the implications that will be when we have state police? We will weigh them and once we agree, can make our position known. Whether state police or federal police, what is important is for the police to enforce the law. That is what I am saying. Police must enforce the law; let there be no sacred cows as we are seeing today. I have reported Miyetti Allah Kautal Hore, their president and secretary; these are two persons who persistently alerted us that they are going to come into Benue State to cause havoc and they have done it. I am repeating that call; if there is another place where I can take my case, I will do it. I have no option, but I believe that I reported this to the president and he assured me that he would get the Inspector General of Police (IGP) to act and I believe that that will be complied with and, until that is done, I am not going to rest.
Aside the communities that were attacked for two days, are there other ones that have been attacked?
The attacked communities, like I said, we visited Tomatar where a lot of people were killed. This is also part of Guma, but on the other side of the river and I also visited Azege in Logo local government area where people were also killed and some were wounded. I also visited the temporary refugee camps in Tse Abi and Agenke in Guma Local Government Area and Ayilamo in Logo Local Government Area. There are other two places that were also attacked in Umenger in Guma Local Government Area. This is the other side of the river and also in my council ward in Ako. These are the two sites that I am yet to visit, but I intend to do so. Some people were wounded and some were also killed there too, but I'm yet to get the full brief from there.
While you were going round to inspect some flashpoints in Tomatar, you were said to have come across some bullet proof vests with the colours of the Nigeria Army. How true is this?
On the bullet proof vests, I was also told, but I am yet to see them; I am waiting. It was when I left that I received a phone call, but in situations like this, you don't act on rumour. I have heard a lot of things, but I am waiting to confirm because coming from me will mean that it is authentic information and so you have to be careful to be sure of what you are saying as a leader, otherwise you will create other challenges which you may not be able to control.
You went out to address the youths that were protesting the killings and you were almost killed, having told the Federal Government that there is a level to which you can control your people. What can you say about the sad development?
On the incident, you can feel the anger,; you can see the anger of the youths and so I also feel the pains, I am also angry but the Bible says be angry, but do not let the sun go down on your wrath. So, even when you are angry, you have to find a way of controlling it, otherwise you will mess up yourself. So that is why I am appealing to youths, for it is said that two wrongs cannot make a right. We can't solve this problem by creating another wrong. Government is on top of the situation as at today. The Security Council met and it is still meeting. It was as a result of the blockage that the Security Council decided to move to the scene and appeal to the youths to allow free movement, but it became rowdy. But like I said, these are really very sad days for Benue State. Corpses were brought to the mortuary and when we visited more corpses were being brought in and even today more corpses were discovered. So, you can see the anger of the people and that is why government must act.
One thing that will give the people confidence is when the president and the secretary of Miyetti Allah Kautal Hore are arrested and prosecuted because there is enough evidence about what they have done and I am accusing them directly and I expect that to be done. Since I have reported to the president, I am waiting to have a response from the security agencies because people should not operate with impunity. If we do that and everybody decides to take laws into his hands, then we are calling for anarchy and you don't know the extent that can go.
Challenges are meant to be overcome and I believe that God will help us to definitely overcome this and I believe that, tomorrow, those who are resisting this law (the anti-grazing law) will celebrate it for there is no way of moving forward, arising from the challenges that we have today in Nigeria on land. The land is no longer there and I will continue to say it. We are farmers and there is no way we can surrender our land again for grazing. All business people who are willing to go into cattle-rearing business are free to obtain permit and do ranching in Benue State.