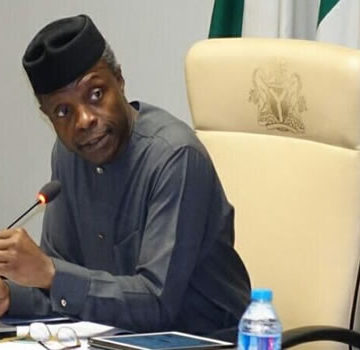 Vice President Yemi Osinbajo on Tuesday inaugurated the Core Working Teams for the Economic Recovery and Growth Plan (ERGP) Focus Labs with an assurance that the Federal government would listen to what investors suggestions and bend over backwards to accommodate them.
He said this ensured that the objectives of the ERGP were attended to performing the ceremony at the Banquet Hall of the Presidential Villa, Abuja, he reaffirmed government's commitment to partner and work with the private sector to achieve the economic objectives of the President Muhammadu Buhari administration.
ALSO READ: Buhari to end herdsmen/farmers clashes ―Osinbajo
The teams inaugurated comprised 20 persons per lab bringing the total to 80 participants.
Osinbajo stayed: "Our administration fully recognizes that the private sector ought to be the driver of the economy, mobilizing and deploying the bulk of capital required to deliver growth and prosperity; and the role of government should essentially be to create the environment for the private sector to thrive."
He explained that the principle on which the ERGP focus labs were designed was one that created the enabling environment for the private sector.
While noting that government was committed to the principle, he added: "I want all of us who will be participating in these labs to see this as central.  We want to listen to what investors are saying; we want to listen to what the private sector is saying; I want to see in what ways we can bend over backwards to accommodate what they are saying so that we can achieve our objectives."
According to him,  the ERGP Focus Labs were meant to bring together private sector and public sector participants as well as potential investors to think through the implementation of the specific areas of focus for the labs, including agriculture and transportation; manufacturing and processing; and power and gas.
Osinbajo said the labs, which would be launched in March, were targeted at achieving the ERGP's goals of reaching seven percent growth by 2020 and creating jobs.
In his remark,  Minister of Budget and National Planning, Senator Udoma Udo Udoma, observed that the present administration inherited a challenged economy had arrested the slide through deliberate policies.
He that the sector-specific focus labs were being rolled out to provide the private sector with the needed leverage to drive the economy to enable it to attain the targeted seven percent growth.
He disclosed that the focus labs would be kick-started with three selected areas, "reflecting our priorities of the ERGP," adding: "We are starting in agriculture and transportation, manufacturing and processing, power and gas supply."
Udoma said the main objective of the labs was to get new investments for critical projects to create jobs.
"We have a target of 15 million jobs and we must achieve it and would be used to resolve complex inter-agency problems that inhibit private sector investment," he added.