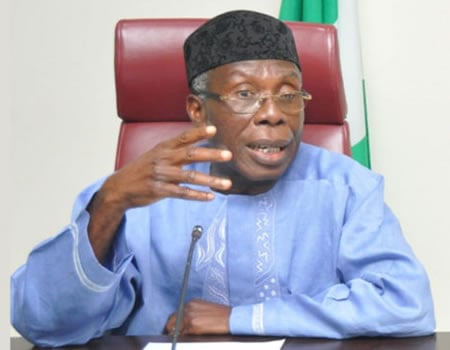 The Federal Ministry of Agriculture and Rural Development (F MARD) is committed to developing agriculture with a view to attaining national food security and provide gainful employment for its teeming young population.
The Permanent Secretary Dr Bukar Hassan, who was represented at the occasion by the Director, Federal Department of Extension, Mrs Karima Babangida made this disclosure during a courtesy call on the ministry by students of United States of America War College, on April 11, 2018.
Mrs Babangida while highlighting some of the programmes of the ministry, noted that efforts are being made to modernise the sector through farm mechanisation and use of Information Communication Technology to target youth participation in agriculture.
She also explained that the ministry, in its effort to boost export, is working with organisations such as National Agency for Food, Drug Administration and Control (NAFDAC) and the Nigerian Export Promotion Council (NEPC)   to ensure safety standard of food, maintenance of international quality standards and safety requirements.
During an interactive session, Mrs Aisha Mohammed, Head Projects Coordinating Unit (PCU), while outlining the ministry's mandate, informed the group that government is committed to changing the narrative of being a major importer of agricultural produce especially rice to being a major exporter of rice, cassava, cocoa, and other produce.
She noted that importation of rice has dropped tremendously as Nigeria is now engaged in local production of the product.
Ms Cornell Charlett Woodaid, leader of the delegation, said their mission to the ministry was  to interact with USAID desk officers, deepen exchange of knowledge that are sector specific and have first-hand knowledge of projects being implemented by the ministry.
Dr Osagie Aimiuwu of USAID Nigeria, who led the delegation to the ministry, said his organisation has developed a programme on integrated agriculture that will focus on the North East, saying his agency will collaborate with officials of the ministry to implement the programme.
Members of the delegation include: Charlett Woodaid, James Moyes, Ryan E. Richardson, Judeson Gillett, Brad Duplessis, Will Watson of the US Army, while   Corey Ray, is of the US Navy.
USAID's agriculture and food security programme in Nigeria helps to increase agricultural productivity, expand market participation, increase resilience of vulnerable households, improve business enabling environment and increase access to finance.