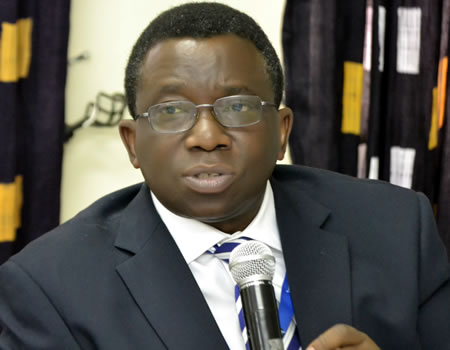 Minister for Health, Professor Isaac Adewole, has said that the present global economic recessions have not made the Federal Government to solely meet all the health needs of the nation and her people.
Speaking at the event marking celebration of achievements of the outgoing Chief Medical Director (CMD) of University of Ilorin Teaching Hospital (UITH), Professor Abdulwaheed Olatinwo, in Ilorin at the weekend, the Minister, represented by the former CMD of University College Hospital (UCH), Ibadan, Professor Abiodun Ilesanmi, therefore, canvassed a workable synergy between management of government-owned hospitals and the endowed private concerns.
The minister, who said that only proactive management of health institutions in the country would put Nigeria at par with other third world countries, added that the measure would end unnecessary medical tourism abroad among some Nigerians.
"Government alone can't give us all the enabling environment in the area of quality health services in Nigeria. The world over, health is very expensive but many countries are blossoming in the sector due to their effective partnership with the private sector.
"When you occupy a public office, you need the guidance of God,  your spouse and your ingenuity to succeed. Even where the funds are not enough you have to think outside the box to make a headway. We must never play the second fiddle to any developing nation in the area of health. Instead, we must set the pace for others. "
The event, which was used to highlight some achievements of the outgoing CMD in office, also witnessed public presentations of Compendia that catalogued other achievements under his tenure, just as it was also used as an occasion for the presentation of the anthem for the UITH.
The Chairman of the occasion, Mallam Yusuf Ola-Olu Ali SAN praised the outgoing CMD for moving the hospital to its next level despite pockets of "internal and external oppositions."
Responding, Olatinwo thanked the management and staff of the hospital for helping him to drive home its one-point agenda of "Total Care for Quality Health. " Besides, he said he supervised over the affairs of the UITH by planning for its brighter future rather than planning for his own future.
The latter part of the event witnessed series of goodwill messages and eulogies in honour of Olatinwo.