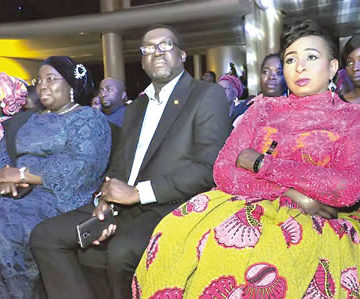 The Convention Centre of Eko Hotels, Victoria Island, Lagos was sent agog last weekend, when the 13th Africa Movie Academy Awards was held.
APART from the glamour and glitz, surprises have become a feature of the awards night of the Africa Movie Academy Awards (AMAA). A movie would appear seemingly from of the blue to outshine all others and leave them in its wake.
In 2009, Kenyan movie, From a Whisper was the surprise package; Democratic Republic of Congo's crime thriller, Viva Riva shone in 2011 while Jahmil X.T. Qubeka's film noir from South Africa, Of Good Report dazzled at the 2014 edition.
It was a similar story at this year's ceremony, the 13th edition hosted by the Lagos State government and held at Eko Hotels, Victoria Island last weekend.
Senegalese movie, Félicité, emerged the biggest winner at the event, anchored by actress Nse Ikpe Etim. Not only did it win the most sought-after award, Best Film, the movie directed by Alain Gomis and set in Kinshasha, Congo, took five other awards, including Best Actress, Best Supporting Actor, Best Film in African Language, Best Soundtrack and Best Editing.
South Africa's 'Vaya' directed by Nigerian Akin Omotoso also had a good outing as it took the Best Screenplay, Best Sound and Best Director prizes. A member of the production crew, who collected the Best Screenplay gong, told the audience that the movie was written by seven writers and took seven years to make.
However, it was not a bad outing for Nigeria as historical drama, '76' starring Rita Dominic, Ramsey Nouah and directed by Izu Ojukwu, won Best Production Design, Best Nigerian Film and Achievement in Production. Oloibiri, featuring Richard Mofe Damijo, Taiwo Ajai-Lycett and Olu Jacobs, took the Best Make-Up prize. For her role in Kunle Afolayan's The CEO, renowned musician, Angelique Kidjo, took Best Supporting Actress
Veteran actor, Nkem Owoh's exploits in Nollywood was acknowledged with a Special Recognition Honour announced by film journalist and member of the jury, Shaibu Husseini. Opa Williams' The Three Wise Men, starring Richard Mofe Damijo, the convalescing Victor Olaotan and Zack Orji, won the Best Comedy Award endowed by Tony Elumelu.
Cameroon's Celine Loader, who has spent almost her entire working life in Nigeria, also got a Special Recognition Award for her contribution to the growth of the film industry in the country and Africa. Jahwar Soudani won the Best Actor Prize for his role in Last of Us while Vero Tshanda piped Rita Dominic, Bimbo Akintola, Zimkhitha Nyoka, Khabonina Quebeka and Josette Bushell-Mingo to the Best Actress Award for her role in Felicite.
Other winners at the well attended ceremony were Ugandan movie, Queen of Katwe that got the Best Costume and Best Promising Actor (Medina Molanga). Two movies, 'A Place for Myself' (Rwanda) and 'A Place in the Plane' (Senegal) were joint winners of the Best Short Film prize; 'Got Flowers (Nigeria) won Best Animation; 'Mama Colonel' (DRC Congo) won Best Documentary; 'While We Live' (Burkina Faso/Sweden) took Best Film by African Living Abroad and 'Kbela' (Brazil) and '90 Days' (US) jointly won Best Diaspora Short. '13th' from the US won Best Diaspora Documentary; Birth of a Nation, won Best Diaspora Feature; Mali's Wulu won Best Visual Effect and The Last of Us (Tunisia) won Best Cinematography while Malian documentary, 'The Legacy of the Hills' got a Special Jury Prize.
African-Swiss filmmaker, Berni Goldblat, chaired this year's jury who included Keith Shiri, Ayuko Babu, Asantewa Olatunji, June Giovanni, Hyginus Ekwuazi, Husseini and Filipe Savadogo.
Performances, characteristically, were not in short supply at the ceremony, where organisers got their acts right this time only for speakers to make noticeable juvenile slips. The Maestro Band, the sonorous voiced Paul Play Dairo, spoken word artist, Chijioke Iromuanya, Uganda's Ykee Bender and Afrojuju singer, Sir Shina Peters, all entertained guests who were also cracked up by some of the slips.
Commendably, the ceremony wasn't all about empty entertainment and cleavages display by a number of female attendees who rocked dashing dresses as speakers touched on salient societal issues. Iromuanya, for instance, canvassed for unity and peace around Africa; development, equity and inclusion.
CEO of AMAA, Peace Anyiam-Osigwe toed the same path in her speech. Naturally, she began on a note of gratitude, expressing her appreciation to Governor Rochas Okorocha of her home state, Imo, the jury and Governor Akinwumi Ambode of Lagos. She didn't leave out President Paul Kagame, of Rwanda, who hosted the Nomination Party in Kigali and who is hosting the 2018 AMAA as was later announced by Ghanaian actress and AMAA Ambassador, Lydia Forson.
Anyiam-Osigwe thereafter charged her colleagues: "We must continue to use film to show the unity of Africa and the unity of each other; we are all one. Nigeria will do well to adopt the practice of President Paul Kagame, whose country, Rwanda, has visa-on-arrival for visitors. All of Africa should adopt the visa on arrival practice, because we need to remove the barriers as this makes it easy to be African. We should use motion picture to stop the hate, we are all one. We should use the power that we have."
Governor Ambode, who was represented by his deputy, Dr Idiat Ranti Adebule, said it was a pleasure to host the ceremony five years after Lagos last hosted it. He said it's all part of efforts to maximise the unharnessed potentials of the music and entertainment industries in Lagos, the state he further described as Nigeria's biggest home of entertainment.
Ambode said his administration was creating an enabling environment for entertainment to thrive by providing infrastructure and platforms like One Lagos. He added that Lagos was proud to identify with the vision of Anyiam-Osigwe and pledged to support the movie industry not only in Lagos but across the country.