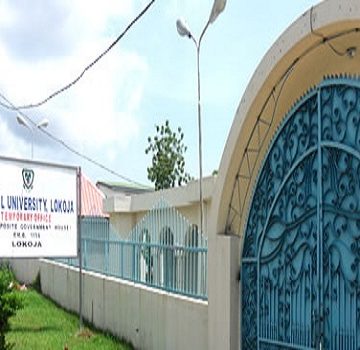 THE Federal University Lokoja (FUL), on Wednesday, matriculated no fewer than 1, 606 students for the 2017/2018 academic session.
The matriculation, which was the 6th edition saw 734 students admitted into the faculty of arts and social sciences, while 872 students were enrolled into the faculty of science.
The vice-chancellor Prof Angella Freeman-Miri, warned the students about the required minimum standard in the university, adding that failure to meet up would attract withdrawal from the system.
She charged the students to take their academic work seriously in order for them to get the opportunity of acquiring university education.
The vice-chancellor said, "I wish to draw your attention to the fact that this is the first stage of your intellectual journey through this great university.
"It is my hope that at the end of four years you will make a successful and triumphant exit from this university and the investment of your parent and guardians over the years would not be in vain."
According to her, the university had put in place all requirements for the students to be at their best academically with a well-equipped library and a conducive learning environment.
ALSO READ: OAU Senate backs management, orders students to evacuate hostels
"There is an alternative power supply each time we experience power failure from the PHCN; I assure you that power would be sustained especially in the night for our students to study," Freeman-Miri said.
She admonished the students to obey the school's rules and regulations as a contravention of any of them would be met with stiff penalties including expulsion from the institution.
She said the university, which had graduated its second set, she said was growing fast as it is advancing its academic status and physical development, adding that the school would soon commence postgraduate programs to offer admission to deserving students.
According to her, the university had started remedial science programs to prepare students who are deficient in some subjects, to remedy the deficiencies and to equally prepare them for JAMB examinations.
"Additionally, faculties and programs are being planned to be established in the university which will present students applying to FUL with a variety of choices of programs of interests to study."
She warned them to shun all forms of social vices such as cultists, indecent dressing, examination malpractice, sexual misbehaviour and other fraudulent acts.