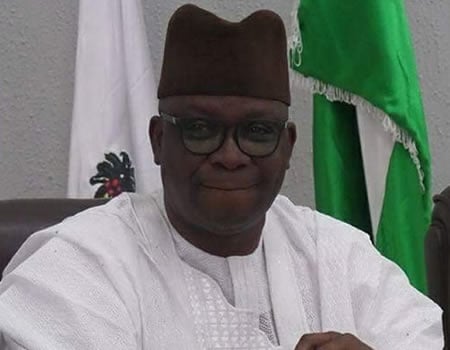 GOVERNOR Ayodele Fayose of Ekiti State, on Friday, signed the 2018 supplementary budget of N9.9 billion into law, restating  that he remains the governor of the state until the end of his tenure on October 16.
At the event attended by Speaker of the state House of Assembly, Kola Oluwawole and some other members of the legislature, the governor chided the All Progressives Congress (APC) and the governor- elect, Dr Kayode Fayemi, for questioning the budget process.
Fayose said it was "amusing to hear Dr Kayode Fayemi say that the revised budget was unnecessary. He (Fayemi) signed his own on September 15, 2014, exactly a month to his leaving office. Now I'm signing my own on September 14. They should keep quiet and stop crying wolf. I'm still the governor.
"It is laughable that Fayemi won't stop at anything to blackmail me even when he had to go to ridiculous level. This revised budget being signed today September 14, 2018, Fayemi did sign the same kind of budget on September 15, 2014 when he had less than a month to leave office. May be he has forgotten, but Ekiti people are not suffering from dementia and are students of history.
ALSO READ: Take advantage of vegetables in rainy season ― Nutritionist
"The Clerk of the House in 2014 when Fayemi signed his revised budget, Mr Tola Esan, is still the clerk and he is here today. We are not robots and when there are things to attend to, we will still do that before we leave office. When Fayemi finally resumes, he can turn the state upside down, history will record him."
Accusing President Muhammadu Buhari-led APC of taking hypocrisy to a ridiculous height in governance, Fayose said he had acted within the law by sending the budget to the state legislature for appropriation.
"They are confusing Nigeria, confusing the public. I don't know the level they have taken hypocrisy to. Recently, President Buhari paid for fighter jets from excess crude account without appropriation and heaven did not fall. This is sheer hypocrisy."
The governor urged the  state legislature to cooperate with Fayemi when he assumes office in the interest of the state, adding, "Don't fight Fayemi when he comes, serve Ekiti. Ekiti is our common goal, politicians will come and go.  Do your work and leave them to their conscience and their propaganda."