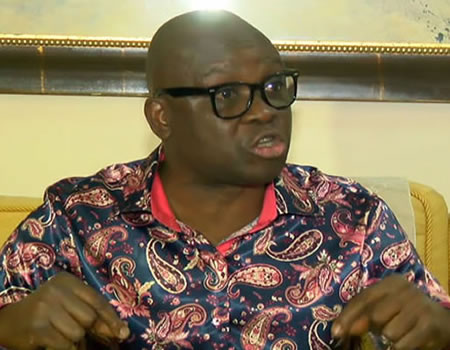 Governor Ayodele Fayose of Ekiti State,
on Sunday
, announced the release of 80 per cent of petrol in the Government House fuel dump to the public to buy at N145 per litre.
A government statement, which explained the move by the governor, said it was "to reduce the effects of the current fuel scarcity in Ekiti State."
The statement said Governor Fayose directed that 80 percent of the petrol in the fuel dump would be released to two petrol stations in Ado Ekiti, the state capital to be sold to the public at the control price of N145 per litre.
Governor Fayose, who announced the gesture via his twitter handle @GovAyoFayose said "I cannot be keeping fuel in government house while our people keep suffering."
He said: "I have asked them to pump out 80% of the petrol in the Government House fuel dump to be sold at control price of N145. The maximum a single individual can buy will be 25 litres."
Further to the tweet, it was explained that 60,000 litres of fuel is in the dump and 80 per cent of that would be 48,000 litres for the buying public.
From the instruction that no individual should get more than 25 litres, it  is estimated that no fewer than 1,920 people would get to buy from the fuel.
While the time and stations for the purchase is still being awaited, the government statement quoted the governor as saying 
"I am going to town to locate the two petrol stations where the petrol will be sold."
Fayose, who lamented the hardship being faced by Nigerians as a result of the petrol scarcity, 
said "the APC led federal government has turned the joy of Nigerians to groaning. People can not travel to meet their families because of the wickedness of this APC government.
 "This hardship is too much for Nigerians to bear at this time and it is obvious that President Muhammadu Buhari does not have solution to the fuel scarcity."
The petrol scarcity in the state has led to the crippling of commercial activities in most parts of the state, especially the state capital.
Transport fare has skyrocketed, with increase of as much as 150 percent in some routes.
Petrol also sells for N300 per litre in some petrol stations while no one could explicitly say what the cause of the scarcity is.