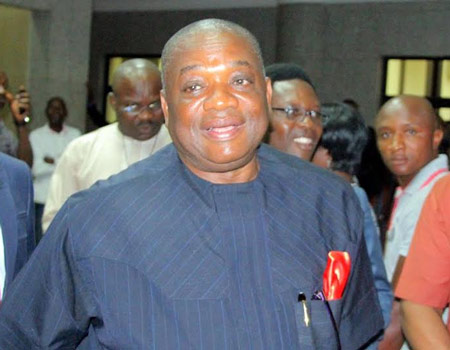 A former governor of Abia State and the Chairman of the Advisory Board for the National Movement for the re-election of President Buhari, Dr Orji Uzor Kalu, defied Governor Ayodele Fayose of Ekiti State to visit where he campaigned for a second term for President Muhammadu Buhari.
Kalu while speaking with newsmen in Ado Ekiti, also lambasted former President Olusegun Obasanjo for his negative criticism of the Buhari government and asked Nigerians to ignore him.
Kalu had arrived in Ado Ekiti on Sunday, ignoring a call by Governor Fayose of the state that he was not welcome in Ekiti for an unexplained "peace advocacy visit" to the state.
Kalu said the statement that he was not welcome in Ekiti, credited to Governor Fayose was unfortunate and said that such was not expected from someone holding a high political office.
He said: "My attention was called from Ondo State on Saturday that Governor Fayose said I should not come to Ekiti. Fayose is my boy. He can't stop me from coming. He is my boy and he knows he can't stop me on anything.
"Governor Fayose was in my house for 90 days after he was impeached. He is my friend but he has gone beyond his limit by saying a bonafide elder statesman like me should not come to Ekiti.
"Fayose was in my state, Abia last week, nobody said he should not come. So I have declared war on him. Even if I sleep on the floor, I will still defeat Fayose on any issue."
Taking swipes at ex-President Obasanjo for his uncomplimentary description of the current administration led by Buhari, Kalu said Chief Obasanjo was "the most incompetent to describe any government as being corrupt in the country."
He said it was resentful for Obasanjo to have asked Buhari not to seek a second term in office, saying the former president lacked "the moral standing to stop a president that has been the most selfless in Nigeria's history from contesting."
He said Nigerians should ignore the criticisms of President Buhari and rather embrace his second term bid.
Kalu was received in the state by one of the All Progressives Congress (APC) governorship aspirants in the state and former speaker, Mr Femi Bamisile.
Addressing the APC members at Bamisile's home in Ado Ekiti, Kalu told the gathering that President Buhari was desirous to contest for second term and that no effort would be spared in achieving the goal.
He said: "Let me tell you emphatically that President Buhari will contest again. Don't listen to letter writers like Obasanjo. Obasanjo has been president twice. So he should keep his letter in Otta for himself.
"That is why somebody like me is in Ekiti to tell our people not to listen to Obasanjo. He met the economy in comatose, today President
Buhari has raised the foreign reserve from $23 billion to as much as $47 billion dollars while the menace of Boko Haram has been defeated.
"So, some people are out to destabilise his government. We want Nigerians to embrace love, peace and show understanding," Kalu advised.
On the July 14 governorship poll, Kalu urged Ekiti delegates to vote wisely, by voting an aspirant who has the political network and dexterity to defeat Fayose.
"You need to work very hard because President Buhari doesn't believe in rigging. I am ready to support whoever you bring up as candidate here in Ekiti for the July 14 election, because I am part of you.
"If I am to choose for you, I will choose Bamisile, but this lies on Ekiti delegates. However, as a national leader of APC, I am ready to support whoever you bring up.
He promised to work hard to ensure that APC wins the 2018 poll so that the battle can be easy for the party in the 2019 presidential poll when Buhari will be recontesting.
---
---