Fayemi's wife escapes by whiskers as hoodlums attack convoy
Journalists, police officers, civil servants sustain injuries
Hoodlums on Tuesday attacked the convoy of the wife of Ekiti state governor, Erelu Bisi Fayemi in Oye-Ekiti, Oye local government area of the state.
The hoodlums were said to have hijacked the protest embarked upon by students of the Federal University Oye Ekiti(FUOYE) over incessant power outage in the community.
Fayemi's wife was returning from her tour of the local government in continuation of the state-wide visitation and empowerment of women in the state.
Tribune Online gathered that the hoodlums went on a rampage after the students' protest and attacked vehicles in the governor's wife convey.
The hoodlums were said to have engaged the security operatives in violent clashes and vandalized no fewer than 10 vehicles.
ALSO READ:  Kogi 2019: Governor Bello in one-hour discussion with Tinubu during visit
Journalists, civil servants and police officers who were part of the convoy were also attacked and sustained various degrees of injuries.
One police vehicle was also attacked and burnt to ashes by the protesters.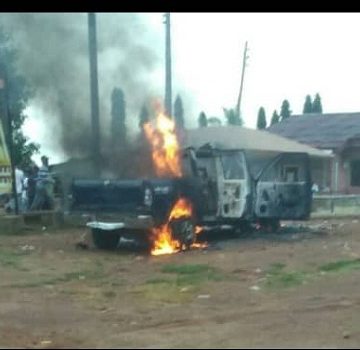 It was also gathered that one unidentified person was reportedly killed in the clash.
A source who was part of the entourage said, " virtually all the vehicles in the First Lady's convoy were vandalized and the woman was rescued from the scene in a commando-like, in a Toyota Hilux vehicle, not even her official vehicle through Ayegbaju Ekiti.
" The hoodlums set burn fire on the road and smashed vehicles in the first lady's convoy. They over-powered security agencies in the convoy and we only escaped through the Grace of God."
When contacted by Tribune Online, the Police Public Relations Officer of the state Command, Caleb Ikechukwu , confirmed the attack on the governor's wife.
Ikechukwu explained that the students protested in the morning and blocked the Ifaki-Ikole-Omuo highway and prevented the free movement of vehicles.
He said," The students did not allow vehicles to move freely and they vandalised the property of Benin Electricity Distribution Company.
"When police went there to dialogue with them, they resisted them. And the wife of the governor who went on local government tour ran into the barricade mounted on the road.
"The students were reported to have been violent, destroying cars and smashed the windscreens of vehicles.
" I want to debunk the social media reports that one person was killed. Nobody was shot and I want to say no life was lost in the whole scenario.
"We want to warn that the command won't tolerate hooliganism under any guise. We want to assure the public that the police are on top of the situation and our people must go about their normal businesses."