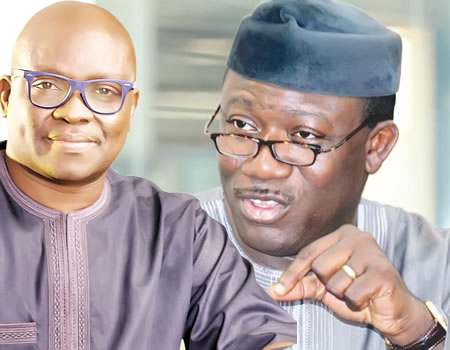 EKITI State governor-elect, Dr Kayode Fayemi has kicked against the N10bn supplementary budget application made by Governor Ayodele Fayose, describing the application as "a fraud".
A statement by the media office of Dr Fayemi, on Tuesday, said the budget application was "masterminded by Governor Ayodele Fayose in cahoots with officials of the Ministry of Budget and Ekiti State House of Assembly."
The governor-elect warned that "the consequences of illegal appropriation of public funds will be very grave for individuals who participate in any illegal act to defraud the state."
Fayemi, in the statement signed by the Director of Media and Publicity of his campaign, Mr Wole Olujobi, also counselled the ministry officials and members of the state's House of Assembly against being used for what he said was "illegal appropriation of public funds."
According to him, "participants in such illegal act will be called upon to account for their actions when the new administration takes effect next month, to protect Ekiti people from leadership abuse."
He queried what he said was "the rationale for the N10 billion supplementary budget barely a month to the handover date of October 16, 2018.
ALSO READ: I'm coming to you on October 16, Fayose writes EFCC
"The media report alleging that Fayose coerced the Ministry of Budget officials to make a demand backdated to August 23, 2018, for a supplementary budget of N10b a few days to the end of his administration is fraudulent and not in the interest of the state.
"The governor's covering note also backdated to August 30, 2018, for the legitimacy of such request was equally done with fraudulent intent.
"Just yesterday (Tuesday), according to media reports, the same supplementary budget was presented to the Assembly Clerk for immediate approval without presenting it to Assembly members at the plenary to go through all parliamentary procedures in budget processing.
"The latest development today after the plot leaked on this fraudulent conduct is that the budget is now before the House for a hush-hush debate for immediate approval," the statement explained.
Fayemi warned that all individuals who allowed themselves to be co-opted into any appropriation fraud should be ready to account for their actions when the new government takes effect next month.
"We have warned government officials and Ekiti people in general against participating in illegal acts by the governor and this fraudulent supplementary budget is not an exception.
"The incoming administration has a responsibility and commitment to the protection of Ekiti people from abuse by political leadership.
"This is our pact with Ekiti people and we will never shirk from this responsibility to ensure accountability and good governance for our people," the statement cautioned.
---
---