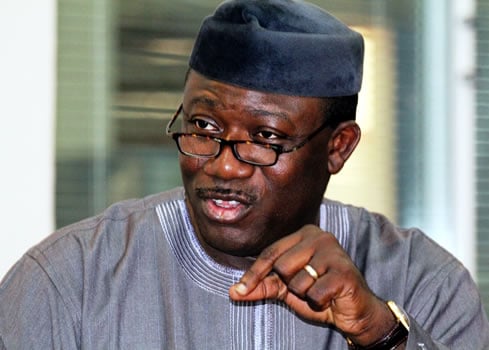 THE Minister of Mines and Steel Development, Dr Kayode Fayemi, has visited the secretariat of his party, the All Progressives Congress (APC) in Ado Ekiti to formally state his intent to contest the July 14, 2018 governorship election and said he was running to rescue the state from alleged misrule by the current administration in the state.
Dr Fayemi, who was accompanied by a crowd from supporters, acolytes and party faithful for all parts of the state, told the gathering that he was running not for the sake of title, but to rescue the state and restore the good governance he said he instituted in his first term.
He said in the four years that he served as the governor of the state, he paid N5,000 stipend for the elderly, gave employment to the youth through EKSTMA, and carried out lots of infrastructural development but lamented that the state was sliding into decay because of alleged bad governance.
Her said his return to government would restore the monthly allowance to the elderly and sundry positives experienced in his first term.
He said the APC was ready to work hard to win the election and added that the party would deploy all resources at its disposal to ensure it emerged victorious in the election.
Fayemi told the crowd that he was coming back because the Ekiti governorship was "an unfinished business, saying "I came with a profound sense of unfinished business and we have to finish what we have started."
He said: "They said the June 21 governorship poll is free, fair and credible, so that of July 14 will be free , fair and transparent as well. They will accuse us of so many things. They will accuse us of using federal might, but we will not care."
Fayemi, the 37th aspirant in the APC for the party's ticket, promised that to support any of the aspirants that emerged as the candidate of the party and called for the cooperation of the other aspirants to ensure that the APC won the election.
Addressing the State Working Committee(SWC), led by its state deputy chairman, Mrs Kemi Olaleye, Fayemi said : "We will use local, state and federal power to take over Ekiti from a rapacious and government being run by brigand in Ekiti.
"Those of us who traveled out of Ekiti, we are being insulted, assaulted and mocked on daily basis asking why Ekiti they thought were well read, refined and exposed could make a character like Governor Ayodele Fayose as their governor.
"That is why it is important for us to reclaim our land and restore our values. Each time I move round Ekiti, I see the pains on the faces of the 25,000 elderly persons who benefited from our social security scheme, 600 people who were employed into the peace corps, 10, 000 volunteers who took N10,000 per month, among others but have been cut off from these safety nets by Fayose."