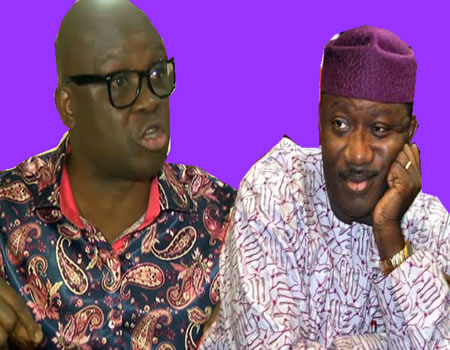 Governor Ayodele Fayose of Ekiti State has alleged that the All Progressives Congress (APC) and the Independent National Electoral Commission (INEC) are colluding to preload card readers to be used for the July 14 governorship election in the state.
Fayose, who spoke while featuring on a live radio and television programme, in Ado Ekiti, on Friday night, claimed that the alleged preloading of the card readers was "with a view to manipulating the poll in favour of the APC candidate, Dr Kayode Fayemi."
Fayose also claimed that the act is allegedly being "perpetrated in Akure, Ondo State in collaboration with the Ondo State government."
The governor on the programme tagged "Governor Explains", alleged that "over 550 polling units spread across the state, particularly in Ikere, Ado and Ijero local government areas, were targeted to be preloaded with between 50 and 200 votes in favour of the APC."
He said: "I don't want to bring the picture out yet, but those who said preloading is not possible are not telling the truth. Right now, they are doing manual preloading in Akure. For polling units with over 1,000 voters, they spread the preloading to between 50 and 200 votes per polling unit. In Ikere, 58 of such polling units were targeted and Ado Ekiti has 158 of such polling units. They want to get people they would use to stuff the ballot papers and dump such papers in the ballot boxes at such polling units.
ALSO READ: Ekiti election: Why the odds favour PDP
"They are also printing fake voter's cards in Akure with support from the Ondo State government. They are also working to bring in about 14,000 people from Ondo State to come and vote here. They have already issued 7,000 fake voter's cards and they are daily printing this. They promised to give each person N15, 000 if they can help them stuff ballot boxes with fake ballot papers they are printing."
Fayose called on the people of the state to be vigilant during the governorship election and also charged them to challenge any strange face they see in their communities as the election draws near.
Reacting to the allegations, the JFK Campaign Organisation said the past of Fayose was haunting him, saying Fayose was being haunted by the "ghost of the federal government-backed 2014 poll fraud haunting him."
The Director of Media and Publicity of the Kayode Fayemi Campaign Organisation, Mr. Wole Olujobi, who reacted to the allegation, said "Governor Fayose's allegation that the APC candidate is manipulating ballot in Akure, Ondo State capital, ahead of the July 14 poll is the consequence of the ghost of the Federal Government-backed 2014 poll fraud haunting him."
Olujobi said: "We are not surprised that conscience, for the first time, is pricking Fayose over his unprecedented, historic and historical 2014 poll fraud.
"All Nigerians and indeed peoples of the world heard how Fayose led top PDP members backed by the President Goodluck Jonathan's administration to manipulate the electoral process that returned him to power.
"That experience is now haunting Fayose, who believes that President MuhammaduBuhari is also a crime-inclined President who will take his pound of flesh for the 2014 election heist that returned Fayose to power.
"All over the world, Fayose's voice was heard on the popular CaptSagirKoli's audio tape harassing a Major General of the Nigerian Army and forcing him to carry out his orders to assist him in the manipulation of the electoral process through illegal arrests and intimidation of the opposition to enable him win the election.
"Fayose's voice was heard in the audio tape talking about how he collected sensitive copies of INEC materials that he said he printed to win the election.
"In the same audio tape, he spoke about how he collated election results in Efon-Alaaye on Thursday 19, 2014, two clear days before the June 21, 2014 election.
"PDP State Secretary, Dr Tope Aluko (TK), corroborated Fayose in an  affidavit contained in his statement to security agencies detailing how Fayose compromised INEC, including concocting the election results two days before the election.
"Now, Fayose is seeing Buhari and Fayemi in his own image as a man who cannot survive in a society where the law works, thus becoming restless that APC will also criminally manipulate the electoral process to secure victory for the APC candidate."
The campaign spokesman also said that APC was not surprised that Fayose was issuing threats to continue gun attacks on the opposition to cow them to smoothen his election victory.
He said: "We now understand why PDP's deputy governorship candidate was reported to be negotiating the release of the boys arrested for crime-related matters on Friday.
"Fayose has history behind him. In his first term, gunmen in killer squads seized Ekiti landscape attacking Fayose's opponents and by the time the smoking guns stopped vomiting bullets, now fewer than 34 innocent Ekiti people were sent to their untimely graves.
"Dr Ayo Daramola was murdered in the most-cruel manner. TundeOmojola was shot and strangled in broad daylight to death. AD Women Leader, Madam Thatcher, was bathed with acid. 11 students of the College of Education, Ikere-Ekiti, were shot dead while several opponents were beaten and maimed to submission to enable the governor have his way.
"Now, after misapplying state funds for selfish motives, after deceiving Ekiti people for more than three years without getting any benefits,  and after deliberately owing workers for between six and 10 months to enjoy himself alone, it is baffling that Fayose is still thinking that he is wiser than 2.7m Ekiti people who he sees as fools to believe his election fraud manipulation allegation.
"Ekiti people have seen the difference between gold and dust and have therefore made up their minds to free themselves from the clutches of a heartless administration that cares less about its place in history.
"Ekiti people have made up their minds to vote for Fayemi who they can trust and who has a record of performance as can be seen in his life-lifting schemes and development projects scattered across the state."