Fashion and textiles have been my passion from a very young age —Banke Kuku, fashion and textile entrepreneur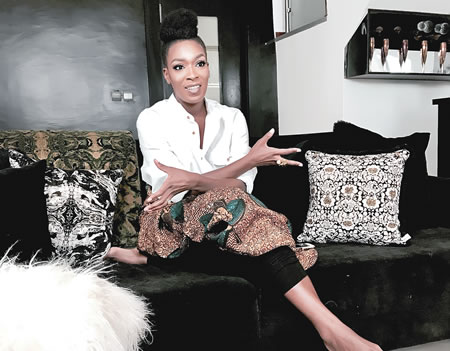 Banke Kuku is a fashion entrepreneur and the CEO/Creative Director of Banke Kuku Textiles, maker of woven and printed fabrics for the fashion and interior decor industry. Her career has taken her to many countries, and she has worked for many local and international fashion brands. Her designs have been featured in Milan, Paris, Japan, France, Australia, United Kingdom and New York. In this interview by KINGSLEY ALUMONA, she speaks about fashion, her book, why she was nicknamed the Queen of Colour, and her advice for young people.

Briefly tell us about your life growing up in Nigeria. And, what necessitated your moving to the United Kingdom at the age of eight?
Growing up in Nigeria was really great, as I was always around friends and family. Most importantly, it ingrained in me a fascination with Nigerian culture, which has inspired a lot of my work today. My parents recognised my creative passion at an early stage and they supported it by allowing me to express myself creatively. I attended Grange Primary School, which had a fantastic art department. They signed me up for after-school art and sewing classes. My move to the United Kingdom, at the age of eight, was in reaction to the instability in the country at the time.
Do you have any formal training that bolstered your fashion skills and career?
My fine art diploma at Central Saint Martins, London, opened my eyes to the width and depth of the global fashion and textiles industry. Once I delved into the world of textiles, there was no going back. I fell in love with every aspect of it—the life cycle of a piece of fabric to the surface design. In addition to my fine art diploma, I have a bachelor's degree in textiles design from Chelsea College of Art and Design.
What inspired you to found Banke Kuku Textiles? And, what fashion brands did you work for before setting up yours?
Banke Kuku Textiles evolved naturally. It was something I did part time while I had a full-time job. Eventually, I couldn't balance both. So, I left my full-time job to focus on Banke Kuku Textiles. I started designing for my own fashion label because I wanted to impact the global fashion and textiles industry through my unique Nigerian-inspired designs by showcasing a positive and beautiful image of Nigeria. Previously, I had worked and collaborated with successful fashion houses in the UK including Burberry, Duro Olowu and Jasmine Di Milo.
What type of textile products do you specialise on? What is unique about your designs?
My designs are intricate and rich in Nigerian culture. They are contemporary in their fusion of West-African and Western-eclectic inspirations, thereby allowing our designs to appeal to a lot of people both within and outside Nigeria. I specialise in printed and woven textiles, which keeps me in competition with global markets.
How long does it take you to complete textile work? And, what kind of people patronise your services?
There are no cutting corners at Banke Kuku Textiles. The creative process, from the start of the design to the finished product, can take up to three months. Keeping my customers happy is very important. So, perfection is at the core of our products and services.  My customers tend to be well travelled with access to top brands. Therefore, producing items that are unique is very important to me.
What kind of stories do your textile products tell? What platform do you explore in fostering these stories?
Banke Kuku Textiles tells Nigerian stories, which range from folk tales to on-going issues within the country, in a beautiful way. The brand's signature print 'Delta Print', tells the story of the Niger Delta region of Nigeria. The print illustrates oil spilled on water. Although the story of the Nigeria Delta will not immediately come across as beautiful, I'm able to bring attention to this area of Nigeria and its issues using beautiful textiles. Social media has been a very helpful tool to share stories about my designs. It also provides the opportunity to get one-on-one customer engagement and feedback.
What is your favourite colour and why?
Generally, I love a vibrant colour palette. However, I don't have a favourite colour. I find that I'm drawn to certain colours depending on my mood and what I'm designing. When it comes to my fabric choices, I enjoy using a wide range of fabrics. I try to limit my use of fabrics which are bad for the environment.
Tell us about your book 'The Unwoven Threads of Nigeria'
The 'Unwoven Threads of Nigeria', written in 2008, is an analysis of the Nigerian textile industry. The book explores the history of the industry, where it currently is and proposes solutions to key issues. It's important for us to preserve traditional textiles because they are part of our cultural heritage. At the same time, it's vital to invest in large manufacturing factories, which in turn will help grow the Nigerian economy. We should be looking to draw inspiration and ideas from booming industries such as China and India.
Why were you nicknamed Queen of Colour?
The nickname 'Queen of Colour' was given to me while I was working at Jasmine Di Milo, Mohammed Al Fayed's daughter's fashion brand. It came about because of my ability to dye fabrics and to make colours match perfectly.
How are your products and services faring in the market space?
Banke Kuku pieces have been stocked in different parts of the world, including Japan, France and Australia. I've had interesting and insightful experiences visiting old textiles factories in Kaduna State, adire dyers in Ogun State, and Aso Oke weavers weaving on a beach near Lagos State. African design is being more recognised and appreciated globally, which has resulted in increase in demand for my products and services, both locally and internationally.  It is a very exciting time for all of us working in the African fashion industry.
Which stores or malls stock your products?
In Lagos State, my products are stocked at Ikoyi and in Victoria Island.
Is your business a one-person business? And, do you have any mentorship programme for people who want to go into textile businesses?
I have a strong and growing team, which I've had the fortune of building over the years.  It's vital to have good support system, which will allow your business to operate as efficiently as possible as the business grows. It is important for them to work with subject-area experts, who are able to focus on and enhance their respective aspects of the business. I've fashion and textile designers in Nigeria that I mentor on an on-going basis.
Who are your mentors in your line of business?
Prior to my relocation to Nigeria in 2017, I was mentored by a number of successful entrepreneurs, including Sophia Webster (founder of Sophia Webster), Roksanda Ilinic (founder of Roksanda Ilinic) and Thea Green (founder of Nails Inc).
What are the major challenges you face in your line of business? And, what do you like doing at your leisure?
The creative industry in Nigeria is growing and I feel very privileged to be able to contribute to it at this stage. As with other fashion designers in Nigeria, one of my main challenges is production, which is tough and expensive. On a positive note, things appear to be getting better and manufacturing hubs are popping up in the country. In my spare time, I like to explore different places and trying new things. I spend a lot of time talking to people and expanding my knowledge.
What advice do you have for young people, especially the female ones, who are aspiring to be like you?
Do not rush things. Good work takes time. Be authentic and be true to yourself. Do a lot of research into the business and try to get as much work experience as possible. There are blessing in small beginnings. So, don't take short cuts.