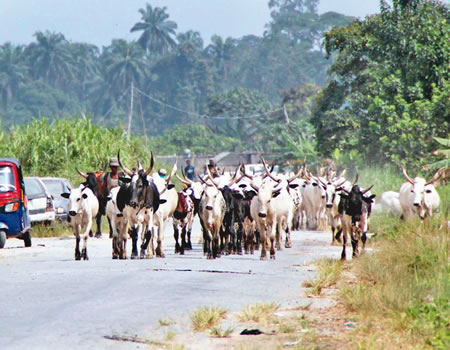 AS violent incidents between animal breeders and sedentary farmers soar across the country, the Director of Breeding and Genetics at the National Animal Production and Research Institute (NAPRI), Professor Bathlomey  Nwagu, has suggested that setting up of ranches for herders was the best way for modern husbandry.
He said normally conflict between the two groups  arose when farmers have encroached on transhumance paths, leading herders to move onto agricultural land to enable their animals to feed.
He made this known during a workshop organised by the National Animal Production and Research Institute, Ahmadu Bello University ,Zaria  for the farmers and herdsmen  held in Zaria.
He remarked, "Having considered the constant conflicts between the pastoralists, the nomads and farmers, NAPRI thought it wise to train the pastoralists, the youths and even the women in the act of modern animal breeding.
'Armed with the little education they will get, they will know the advantages of ranching over nomadism. Having equipped them with that education, they will now certainly go onto ranching rather than migration.
'In fact, the problem they have is that they don't have steady source of feed. This programme we are running will provide the nomads sustained further feed all year round to make them settle down.
'The institute  estimated that several conflicts which  occur each year involving the death of pastoralists and  farmers or even the destruction of farms or houses, could be mitigated if the herders  will embrace ranching over nomadism.
'Conflicts between farmers and herdsmen over the years have led to loss of  thousands of lives and property worth millions of naira across the country, with cases rising year after year.
'Livestock  and farming are economic mainstay for many families across northern Nigeria,  with 80 per-cent of rural families keeping at least one or two animals to fall back on during hard times.
Also speaking at the workshop, the  National Secretary of  Cattle Breeders Association of Nigeria, Alhaji Sani Dahiru, was also of the view that the setting up of ranch would not only  help in curbing farmers/herders conflict, but would also have multplier  effects like employment opportunities for the youths.
"This programme which has all the stakeholders is a very good initiative  to educate our people on how to settle and sit as brothers between farmers and animal rearers, and at the same time, to train and at make our people learn how to rear animals, and how to settle down in one place, not to be going from one point to another.
"That will make a cattle rearer  to stay in one place, learn about fattening, learn about making milk, this is what NAPRI is going to assist us on. And most of our people are also aware of the importance of this programme. Because members of the Cattle Dealers Association  are happy that this will curtail Cattle rustling and fight between farmers and herders".
At the end of the training, it was hoped that participants at the workshop would take what they have learnt back home and educate their colleagues on the need for them to adopt modern ways on animal husbandry as part of measures to mitigate the incessant conflicts between farmers and herders.